PHOTOS
Madonna Vs. Paparazzi Over Cause of Horse Incident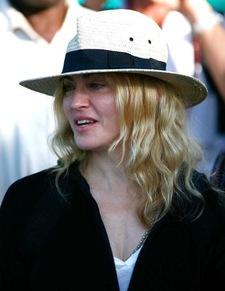 It's a game of back-and-forth finger-pointing in <a href="https://okmagazine.com/search/madonna" target="_blank"><strong>Madonna</strong></a>'s latest horse-related accident.
On Saturday, the 50-year-old Material Girl, who broke her collarbone and three ribs in 2005 after falling off her horse in the UK, once again got given the heave-ho by her horsey pal — this time ending up in a Long Island, NY hospital.
Article continues below advertisement
Almost immediately, Madge's people were laying the blame on the shoulders of a pesky paparazzo.
"The accident occurred when the horse Madonna was riding was startled by paparazzi who jumped out of the bushes to photograph the singer," her rep Liz Rosenberg said a statement.
But two reports tell a different story. First, the New York Post, the only paper to have photographs of Madonna on Saturday came out swinging, swearing that there were no shutterbugs around when Madonna actually fell.
And then on Sunday the actual photographer in question spoke to <a href="http://www.tmz.com/2009/04/20/pap-calls-madonnas-camp-liars/" target="_blank">TMZ.com</a> to say they had been long gone from the scene by the time of the accident.
"If I had startled the horse, I would have gotten pictures," the paparazzo is quoted as saying.
Surely this is not the end of this war of words.
<strong><em>Have a news tip or great photo you want to tell us about? Shoot us an e-mail: <a href="mailto:tips@okmagazine.com">tips@okmagazine.com</a><em><strong>