PHOTOS
Maks & Karina's Wedding Details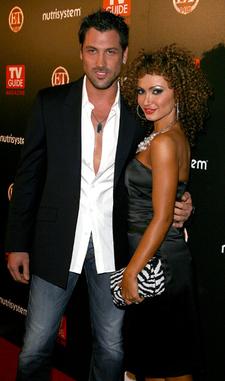 Engaged Dancing With the Stars pros Maksim Chermkovskiy and Karina Smirnoff are working out their wedding plans – and just like in the ballroom, he's taking the lead.
While Maks tells OK! he's letting Karina handle the details, she jokes, "He's leaving it up to me to do it his way!" And that means a big wedding.
"At the rate it's going, it will be huge," says Karina. "I'd rathr have a small party, but a huge honeymoon in Bora Bora."
Article continues below advertisement
But Karina, who accepted Maks' proposal in Las Vegas on New Year's Eve, insists, "I'm easy. If he wants a big wedding with a band, we'll do it."
Still, Maks and Karina must also consider their families' wishes. While both are half Jewish, Karina considers herself a Christian, so she says, "I think we'd have a priest and a rabbi officiate."
Stressful wedding decisions aside, Karina couldn't be happier that she's marrying Maks.
"I've had my share of frogs that I've had to kiss until I found my prince."
OK!'s EXCLUSIVE PICS OF MAKS & KARINA:
<a href="http://www.okmagazine.com/pixandvids/gallery/12454/1" target="_blank"><img src="https://d-images.okmagazine.com/img/photos/large/23532.gif" width="74" height="100"/></a> <a href="http://www.okmagazine.com/pixandvids/gallery/12454/2" target="_blank"><img src="https://d-images.okmagazine.com/img/photos/large/23531.gif" width="74" height="100"/></a> <a href="http://www.okmagazine.com/pixandvids/gallery/12454/3" target="_blank"><img src="https://d-images.okmagazine.com/img/photos/large/23530.gif" width="74" height="100"/></a>
<a href="http://www.okmagazine.com/pixandvids/gallery/12454/4" target="_blank"><img src="https://d-images.okmagazine.com/img/photos/large/23529.gif" width="74" height="100"/></a> <a href="http://www.okmagazine.com/pixandvids/gallery/12454/5" target="_blank"><img src="https://d-images.okmagazine.com/img/photos/large/23528.gif" width="74" height="100"/></a> <a href="http://www.okmagazine.com/pixandvids/gallery/12454/5" target="_blank"><img src="https://d-images.okmagazine.com/img/photos/large/23527.gif" width="74" height="100"/></a>