PHOTOS
Mario Lopez, Eva Longoria Team Up For 'Mud Tacos!'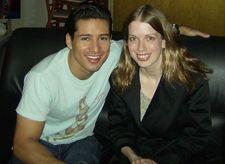 Mario Lopez laughs off speculation that he and the very married Eva Longoria are more than friends moments before he heads into the studio to tape Extra on Friday. The duo have been spotted out and about on what could be perceived as romantic dinner-dates.
"She's a dear friend of mine and I look at her as a sister," the Extra host, 35, says. "She's a great girl, and has been the same ever since I've known her, which is down-to-earth, sweet and very genuine and real. I'm very proud of her and very happy for her success. She deserves it all. She's an amazing lady and an even better friend."
Article continues below advertisement
But Mario is quick to plug the new book he is writing with his sister Marissa Lopez-Wong called Mud Tacos! Turns out, Eva, 34, has agreed to voice his sister's character when the kid's book gets the animation treatment.
"She said she'd play my sister in the cartoon," he says. "I talked to Gloria Estefan, and she would play our mom, and George Lopez said he would be involved. I'm assembling this all-star Latino cast, and I'm really excited about it."
What is Mud Tacos! about?
"My sister and I are very close, and she has a son and a daughter who are they same age apart as we are," he says. "It focuses on brother and sister bonds, specifically, and we're encouraging kids to use their imagination because we could never play in the house. They always sent us outside to play. It's our story about little shenanigans as we grew up."
Hm, what shenanigans?
Article continues below advertisement
"My grandmother was the reluctant babysitter for all the kids because all the parents worked. She was always cooking, and we could always smell it, so we'd pretend like we were cooking in the backyard. So we'd use the leaf as the taco shell, the mud as the meat, the worms as the cheese, the flower petals – all that kind of stuff. We would just make food."
Mud Tacos! will be out October 15, and catch Mario hosting Extra daily.
SEE MORE PHOTOS IN THE VALERIE GALLERY: