PHOTOS
Martina McBride Shares Recipe for Happiness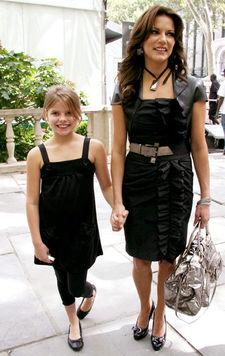 It's a big week for Martina McBride, whose tenth album Shine is out Tuesday.
The country singer best known for her powerhouse hits including This One's For The Girls, Love's The Only House, Wild Angels and My Baby Loves Me credits the song Sunny Side Up as this album's most personal.
"I like it because sometimes you have to wake up in the morning and choose to be happy," the Kansas-born country singer, 42, tells me. "You have that choice to see the good things in the day and not all the bad things."
Article continues below advertisement
What's the biggest lesson she's learned since she started out in 1992?
"It's important to trust your instincts. I feel like I've always had a pretty good handle on that, but every once in awhile I get reminded when I get talked into something, and I think 'I should've just trusted my instincts.'"
One cause that is close to her heart is assisting those suffering from domestic violence through her charity work. Her 1993 tune Independence Day tells the tale of a woman escaping the wrath of abuse. What advice would she give someone in that circumstance, which has received mega media attention due to the Rihanna/Chris Brown situation?
"I think they need to find help, first of all. I'm not an authority into how to give advice or to tell people how to get out of those relationships, but there are people who are. There are shelters, there are hotlines, there are people they can reach out to to get the best advice and get guidance on how to get out of the situation."
Thankfully, the star, who is mom to daughters Delaney, 14, Emma, 10, and Ava, 3, with hubby of twenty years John, doesn't have a personal story about helping with this cause.
Article continues below advertisement
"For me, it's a humanitarian thing. I care about women and children and as a fellow human being. I don't think it's right for any woman or child to be hurt. I think it's important to do what I can to try to put a stop to that kind of violence."
The singer who once worked at Dairy Queen now lives a very comfortable life. She says wealth has not impacted her personality.
"I don't think it changed me. I'm still the same person that I was before. I think the way you were raised has a lot to do with it. It's made it easier for me to help people, so that's good."
What makes Martina shine?
"Just being happy. Sometimes you have to decide to be happy. Every day, I think we have a choice -- we can get up, and if you wake up on the wrong side of the bed, you can go with that, or you can try to do things to turn your day around. When you're happy and you're truly content, you have a lot of good, positive energy to put out there."
Pick up the OK! on newsstands now to find out about Martina's family, friendship with Faith Hill and connection to the Jonas Brothers. The cover line is Angelina Jolie/Katie Holmes/Jennifer Aniston/"The Truth About Which Stars Are Really Pregnant."