PHOTOS
Matthew & Camila: "Learning As We Go"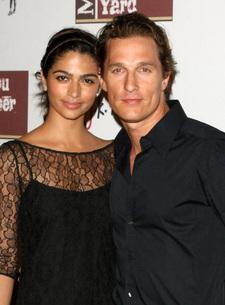 Hunky superstar Matthew McConaughey and girlfriend Camila Alves turned heads with their affection at the party he hosted Tuesday night for the launch of the new Malibu Lumber Yard.
"They showed up literally arm in arm and he never left her side," one partygoer tells OK!. The couple were overhead telling guests how "amazing" it is to be parents to their baby son Levi, and how they just "learn as we go."
Article continues below advertisement
When someone asked Camila about Matt's ghosts of girlfriends past, the brunette beauty was unfazed, explaining that she knows them all and that they're actually friends.
"It was like there wasn't a care in the world and definitely no insecurity about the couple not yet being married," says one witness.
But even in the VIP room where all the action was on Tuesday night, Matthew and Camila's minds were obviously on little Levi. "They sat quietly in the corner," says the insider. "And when they eventually dismissed themselves, they said, 'It's family time now.'"
PHOTOS FROM THE PARTY:
<a href="http://www.okmagazine.com/pixandvids/gallery/13627/1" target="_blank"><img src="https://d-images.okmagazine.com/img/photos/large/26654.gif" height="100"/></a> <a href="http://www.okmagazine.com/pixandvids/gallery/13627/2" target="_blank"><img src="https://d-images.okmagazine.com/img/photos/large/26653.gif" height="100"/></a> <a href="http://www.okmagazine.com/pixandvids/gallery/13627/3" target="_blank"><img src="https://d-images.okmagazine.com/img/photos/large/26652.gif" height="100"/></a> <a href="http://www.okmagazine.com/pixandvids/gallery/13627/4" target="_blank"><img src="https://d-images.okmagazine.com/img/photos/large/26651.gif" height="100"/></a> <a href="http://www.okmagazine.com/pixandvids/gallery/13627/5" target="_blank"><img src="https://d-images.okmagazine.com/img/photos/large/26650.gif" height="100"/></a>