PHOTOS
Mickey Rourke Sleeps With His Bird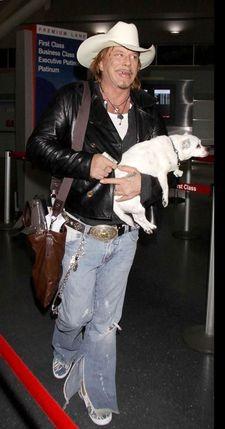 Mickey Rourke is moving on after the death of his beloved Chihuahua, Loki, who went to doggie heaven in February.
Although the little dog was often spotted at events with the Oscar nominee, 56, the animal-loving actor has a menagerie of other pets primed to shine.
"I don't really spoil them," the friendly star tells me. "I just lost Loki, which was really heavy-duty. I've got four other ones, and I didn't want to go out and replace her, so what I did is I like cockatoos. They have an organization in Utah that takes abandoned animals, and we just got a really great cockatoo that's named Sunny that's been passed around through, like, six different homes, so we took Sunny and she's really cool."
Article continues below advertisement
What nice things does he do for her?
"Just relax," he tells me. "I like the fact that Sunny's a bird, and I only had her a week, and she sleeps in bed with me."
When Mickey's not playing around with his furry-and-feathered friends, he makes time to talk motorcycles with Brad Pitt.
"I can't afford to buy the motorcycles that he buys," The Wrestler star says. "He buys really expensive ones. We both love bikes, but we are supposed to get together and look at some bikes as soon as we can find the right time to do it."
Another pal is Lindsay Lohan. How is he helping her through her difficult times?
"I think she's gonna get her s*** together, but I wish her all the luck in the world," he tells me. "Everybody falls down, you've just gotta get back up and put it back together again."
Would he star in a movie with her?
"I wouldn't rule it out. I think she's talented, you know."
Rescue a pet, and save a life. Find your new BFF through petfinder.com. We adopted two adorable cats named Mysty and Spense – short for Mystery and Suspense – and they are the best girls in the world.
SEE MORE PHOTOS IN THE VALERIE GALLERY: