PHOTOS
Miley Cyrus: Playboy Bunny?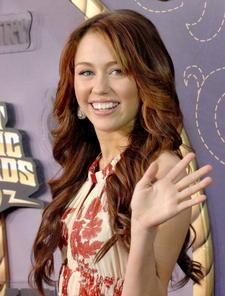 Will Miley Cyrus grace the pages of Playboy next?
If Hugh Hefner had his way, then yes.
The Playboy tycoon says he'd definitely feature the 15-year-old Hannah Montana star in his publication when she's of age.
"Sure, she'd be welcomed in the magazine," he tells Extra. "Very pretty lady."
While Miley's nearly nude had most people up in arms, Hugh, naturally, doesn't see what the big deal about the snaps are.
Article continues below advertisement
"I think to make such a big to-do over something as innocent as those photos, I think is a reflection on how schizophrenic America is about sexuality," he says.
Since the scandal erupted, Miley has laid low, but for their support at the Disney Games last weekend.