PHOTOS
Miley: I'm Not Dating Nick Jonas!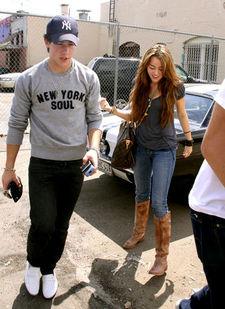 Celebrity publicists around the world must be freaking out these days, with stars themselves turning to their Twitter pages to interact with their fans and to handle their own PR damage control. The latest — <a href="https://okmagazine.com/search/miley" target="_blank"><strong>Miley Cyrus</strong></a>, who felt compelled to issue her own statement regarding rumors that she and ex-boyfriend Nick Jonas had reignited their romance.
Article continues below advertisement
Not so, says the 16-year-old.
"It makes me sad to think that people out there aren't friends with THEIR ex bf, because let me tell u it IS possible," the Hannah Montana star Tweeted over the weekend.
And not content to merely issue a denial, she continued on to talk about how much both Nick and her current boyfriend, model Justin Gaston are to her.
"Justin and Nick are two very amazing people and they both mean so much to me," she Tweeted. "I love both of them so much, and they are both very dear to my heart. Justin is an amazing person! He can always make me laugh and has a heart of gold... Nick is so lovely. He reaches out to so many people with his music, not only with his talent but with his heart. Our love for music is something that keeps our friendship together and I KNOW NO MATTER he will be my friend forever."
RECENT PICS OF MILEY & NICK TOGETHER:
<a href="http://www.okmagazine.com/pixandvids/gallery/13153/3" target="_blank"><img src="https://d-images.okmagazine.com/img/photos/large/25719.gif" height="100"/></a> <a href="http://www.okmagazine.com/pixandvids/gallery/13153/4" target="_blank"><img src="https://d-images.okmagazine.com/img/photos/large/25718.gif" height="100"/></a> <a href="http://www.okmagazine.com/pixandvids/gallery/13153/5" target="_blank"><img src="https://d-images.okmagazine.com/img/photos/large/25717.gif" height="100"/></a> <a href="http://www.okmagazine.com/pixandvids/gallery/13153/6" target="_blank"><img src="https://d-images.okmagazine.com/img/photos/large/25716.gif" height="100"/></a> <a href="http://www.okmagazine.com/pixandvids/gallery/13153/7" target="_blank"><img src="https://d-images.okmagazine.com/img/photos/large/25715.gif" height="100"/></a> <a href="http://www.okmagazine.com/pixandvids/gallery/13153/8" target="_blank"><img src="https://d-images.okmagazine.com/img/photos/large/25714.gif" height="100"/></a> <a href="http://www.okmagazine.com/pixandvids/gallery/13153/9" target="_blank"><img src="https://d-images.okmagazine.com/img/photos/large/25713.gif" height="100"/></a>