PHOTOS
Is Miley's Boyfriend a Father Figure?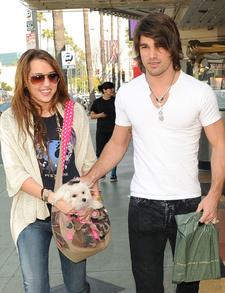 In the April 10 episode of Rachael Ray, 16-year-old Miley Cyrus said Justin Gaston, 20, the Bible-reading, underwear-model boyfriend she has been dating since September, brought her "closer to the Lord."
But Melora Hardin, 41, Miley's co-star in Hannah Montana: The Movie (which topped the box office with $34 million on its opening weekend), suggests another source of Justin's appeal — one somewhat closer to home.
Article continues below advertisement
"He reminds me of her dad Billy Ray Cyrus a little bit," Melora tells OK!.
"There's something about him and Billy — a physical resemblance and a manner, a removed quality.
"She's so effusive and gregarious.
"Billy Ray is much more inward, and I think her boyfriend seems like that, too. So that's interesting."
Indeed it is Melora!
Speaking of which, here are some shots from the hit movie:
Have a news tip or great photo you want to tell us about? Shoot us an e-mail: tips@okmagazine.com