PHOTOS
Miranda & Orlando's Diesel-Fueled Romance!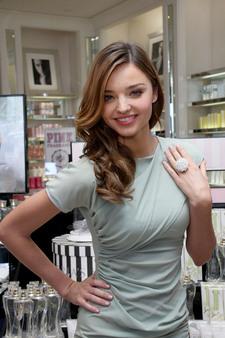 It looks like thrill-seeking actor Orlando Bloom has met his match.
We all knew that his supermodel girlfriend Miranda Kerr was smokin' hot, but who knew she was such a daredevil?
"I'm a bit of a wild child," the beauty admitted to OK! at a Victoria's Secret event promoting the new Dream Angel's Push-Up Bra.
"I've ridden motorcycles ever since I was really young.
"My dad used to race motorcycles professionally so I love motorbikes," she said.
Article continues below advertisement
So that's why we've seen her clutching Orlando on the back of his BMW bike all over NYC!
And is there room on that motorbike for a third?
CLICK FOR FULL-SIZE PICS:
We asked Miranda if she could see a baby in her future — but she doesn't seem to be planning for her own wild child any time soon.
"I've thought about it, but it's not something that's in my thoughts at the present moment. So one day, down the line," she said.
Sounds like she'll have plenty more time to indulge her rebellious side with Orlando then!
By Jacob Hentoff
Have a news tip or great photo you want to tell us about? Shoot us an e-mail: tips@okmagazine.com