PHOTOS
TV Personality Morgan Stewart Reveals It Was 'Cathartic' To Tearfully Open Up About Divorce From Brendan Fitzpatrick On 'Daily Pop'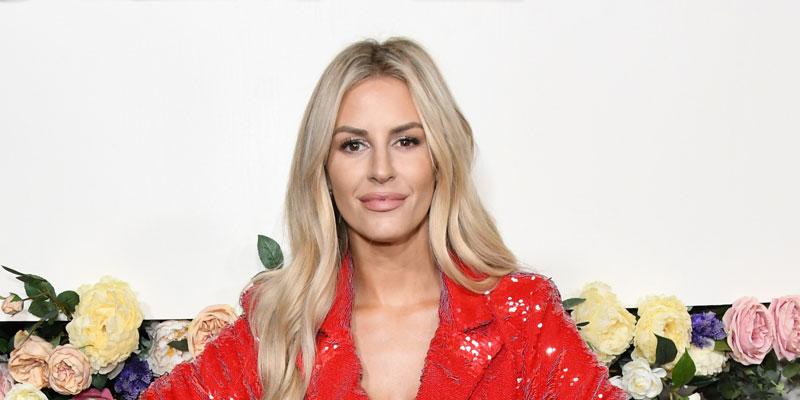 Morgan Stewart tearfully opened up about her divorce from Brendan Fitzpatrick on the Thursday episode of Daily Pop. On Friday, the TV personality explained that she was overwhelmed with the positive feedback she received and publicly thanked her fans for their support.
Article continues below advertisement
"I was honestly really, really, really blown away. I feel like for the first time I realized, and I've been doing this show for over a year, the power of television got real real for me yesterday. I have gotten literally 500 messages from you guys with the nicest words, the most encouraging sentiment and I just want to say thank you so much. Yesterday was almost probably a little bit cathartic for me to just be able to have that sort of connection because it's not that I'm trying to hide that or pretend that I'm not going through a difficult time," she said while cohosting the show with Carissa Culiner.
Morgan teared up while discussing what went wrong in her own marriage during a segment about Julianne Hough and Brooks Laich's relationship problems on Thursday. "I don't think it's ever a lack of love. Love and marriage are two different things. You love somebody, you marry them, but marriage is an act of work every single day. Some people just don't have what it takes to do that with the person they married," she confessed.
Article continues below advertisement
She continued, "I don't think you ever think in terms of 'We're getting divorced.' You think in terms of 'Am I going to be here in 15 years? Is this really going to sustain itself?' Ultimately, it was like we are not functioning as two people that are going to be able to bring children into the world, be together at 45, we just don't have that. I now know this was the right choice. And when you really start to doubt that and really not be able to see a future to sort of navigate the way out of the mess you've created, it's just a general feeling that sort of overtakes you."
Article continues below advertisement
"Hi guys. I know many of you have been curious about the current status of mine and Brendan's relationship. Many of you got to know us and our story through the show, and feel connected to us, and for that, we are forever grateful. Brendan and I have spent six wonderful years together, but we have made the difficult decision to go our separate ways," she wrote on Instagram.
"I wanted to take the time to clarify that our reason for separating has nothing to do with anything other than two people who sadly grew apart, deciding what's best for themselves in the next phase of their lives. Thank you from the bottom of my heart for the extremely heartfelt and supportive messages so many of you have sent — they have meant the world to me. I will always have a tremendous amount of love and respect for Brendan and our relationship. I hope this clears up any confusion going forward," she added.
Article continues below advertisement
What do you think of Morgan's tearful divorce confession? Sound off in the comments below!