PHOTOS
Mya's Guide To Washington, D.C.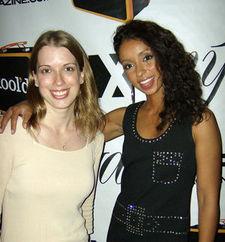 Now that all eyes are on the nation's capital as we herald in the presidency of Barack Obama, D.C. native Mya, 30, offers travel tips.
"Bowling is the best activity in Washington," she tells me. "They have some pretty cool bowling alleys. There are great seafood restaurants – oh, I love to eat. Legal Seafoods, Tony and Joe's on the water, Sequoia, McCormick and Schmick's. Of course, Maryland is known for their crab."
Article continues below advertisement
What's the best thing to order?
"The baked tilapia," she tells me. "Tilapia is my favorite fish."
The Grammy-winning Chicago star loves to take to the District with her best buds. Why is it important to have female friends?
"Girlfriends are forever," Mya says. "Having true friendship, unconditional friendship, is very important, whether that's with a male friend or a girlfriend. A girlfriend you can go shopping with and recommend things. They also have an emotional link because we're built the same and we're very similar emotionally. We can cry on each other's shoulders and not get badgered for it. We can open our eyes to each other because we're females. We allow ourselves to feel a lot of things, which I think men don't allow themselves to do in front of each other."