PHOTOS
Nancy O'Dell & Jewel Compare DWTS Injuries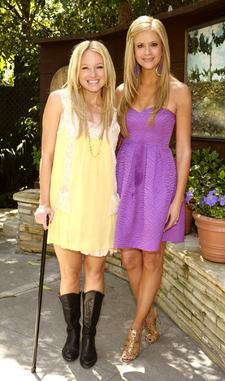 Neither Nancy O'Dell nor Jewel got the chance to strut their stuff on Dancing with the Stars when both were sidelined with injuries during pre-season rehearsals. But that didn't stop the blonde beauties from comparing war wounds at an exclusive ladies tea thrown by the Access Hollwood host, along with Neutrogena and Cookie Magazine, at the Hotel Bel-Air last week.
The exclusive afternoon event was in honor of Nancy's new book, Full of Life: Mom-to-Mom Tips I Wish Someone Had Told Me When I was Pregnant, which is already burning up the sales charts after only a week on shelves.
Article continues below advertisement
Jewel, who arrived with a cane and flat boots after suffering an injury from her DWTS run, even talked about how she hopes she might be next in line to have a little one soon. Guests left with a gift bag full of Neutrogena suncare products (including their new baby spf line) and Cookie Magazine swag. "Neutrogena and Cookie are such family-friendly brands that they couldn't have been a more perfect fit for me to be able to celebrate my book launch with my friends," commented O'Dell.
In addition to the platinum-selling singer, a veritable A-list of Nancy's celebrity friends, including Jaime Pressly, Alison Sweeney, Kelly Rutherford, Hollly Robinson Peete, Shaun Robinson, Kellie Martin, Denise Richards, Lisa Rinna, among others, came out to show their support.
The ladies dined on dainty salads, tea sandwiches, scones and custom desserts while swapping mommy tidbits all afternoon.
CHECK OUT THESE PICS FROM THE EVENT:
<a href="http://www.okmagazine.com/pixandvids/gallery/13631/1" target="_blank"><img src="https://d-images.okmagazine.com/img/photos/large/26617.gif" height="125"/></a> <a href="http://www.okmagazine.com/pixandvids/gallery/13631/2" target="_blank"><img src="https://d-images.okmagazine.com/img/photos/large/26616.gif" height="125"/></a> <a href="http://www.okmagazine.com/pixandvids/gallery/13631/3" target="_blank"><img src="https://d-images.okmagazine.com/img/photos/large/26614.gif" height="125"/></a> <a href="http://www.okmagazine.com/pixandvids/gallery/13631/4" target="_blank"><img src="https://d-images.okmagazine.com/img/photos/large/26613.gif" height="125"/></a>