PHOTOS
A Baby Giraffe Was Just Born In South Carolina & You've Got To See These Cute Photos!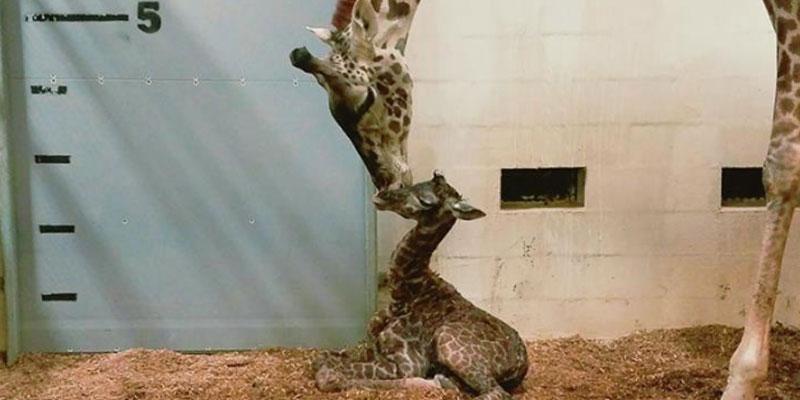 Kylie Jenner's new baby has been the talk of the town lately, but now, another newborn has taken the spotlight! A giraffe named Autumn just gave birth to a little girl on January 31 at the Greenville Zoo in South Carolina, and you have to see the cute photos! Click through our gallery to see the adorably tiny baby!
Article continues below advertisement
The Greenville Zoo in South Carolina shared this adorable photo of the newborn and her mom, Autumn, via their Facebook. The birth was live-streamed on the zoo's webcam, which is still up and running so you can check in on Autumn and the new baby here.
"We're all pleased to see the calf making great progress from the time of birth onward. She has been nursing very well and Autumn is being very attentive to her," said Dr. Nikolay Kapustin, deputy zoo administrator and veterinarian. "It's very rewarding to have another member added to our Masai giraffe group at the zoo to share with our guests and help interpret further our wildlife conservation messaging and initiatives."
Article continues below advertisement
The zoo announced Autumn's pregnancy on its website back in December, stating the 11-year-old Masai giraffe might give birth "as early as February." But it turns out she went into labor even earlier than expected, introducing her baby to the world on January 31.
This was Autumn's fourth pregnancy, but the first with male partner Miles. According to the Greenville news, Autumn and Miles are part of a cooperative breeding program called the Species Survival Program. "The purpose of the program is to monitor captive populations and make breeding recommendations based on genetic variability and spaces available at other institutions to ensure a long-term viable population without removing animals from the wild," they explained.
Article continues below advertisement
As OK! readers know, Autumn wasn't the first giraffe birth to be streamed via webcam. Last year, for 65 days, the world was glued to Animal Adventure Park in Harpursville, New York's ongoing livestream of April the giraffe until she gave birth to a little boy named Tajiri, who's now 8 months old. According to Google, April's stream received over 232 million live views.
What do you think of the newborn giraffe? Let us know in the comment section.