PHOTOS
Nicolas Cage Never Likes To Be Away From Family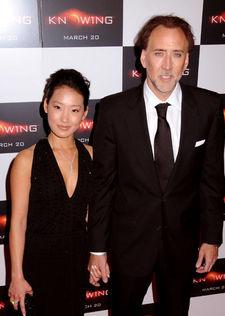 Nicolas Cage and wife Alice Kim add intrigue to the Knowing special screening, which takes place Monday at NYC's AMC Loews Lincoln Square.
After she heads into the theater post-TV interviews, Nic returns for the rest of us.
Why do they make a good couple?
"I'm sorry, what?" he asks.
"Why do you and your wife make a good couple?" I say.
"She's here, yes. Why is she here?"
"Why are you two perfect for each other?" I rephrase.
Article continues below advertisement
"You know something? I think we need to have more time to answer that question."
Hmm. Even though Nic, 45, evades the question, he's generally an affable guy who brought his sons Weston, 18, and Kal-el, 3, to the movie set.
"It's interesting for awhile," the thrice-wed actor says. "One's 18, the other's 3 ½, so it's a new experience for one, and not such a new experience for the other."
He continues, "It's more enjoyable for me to have my family with me when I'm working. I never like to be too far away from my family. If I'm able to do the work I do, it's because of them."
For Nic, his care and concern extends beyond his family. His worried side came out while filming the thriller that hits theaters March 20.
"There was a plane crash sequence in the one shot, which was a tracking shot, where the people were being lit on fire," he explains. "They were stunt people, but they're still people, and I was generally worried for them because if I made a mistake, then I had to start from the beginning and light them on fire again. When you see the movie, I'm truly scared that somebody's going to get hurt. Thank God nobody did."
Article continues below advertisement
During their downtime, he took kid costar Chandler Canterbury, 10, to the zoo.
"Nicolas was very fun," he tells me. "Me and him got to bond a lot. We went to the zoo, and we got to see a lot of cool animals. I liked the koala."
Lucky Chandler got to know his son Kal-el.
"He was very cute and fun to play with," he tells me. "Me and him played Follow The Leader."
Rose Byrne, who also appears in the flick, shares her thoughts on the Sex and the City sequel.
"There's another one?" she says in her Aussie accent. "Maybe they should go to space. I think that would be good. Or they have to save the end of the world. Just mix it up."
Keke Palmer and Jill Hennessy are among guests taking in the special screening. How does mom of two Jill spend her free time?
"Now that it's spring, we actually go outside. We go to parks, we skateboard, try having playdates with other friends."
Article continues below advertisement
She continues, "We actually were baking cookies because a little girl in his kindergarten class was just diagnosed with leukemia. We had a big bone marrow drive at his school on Saturday. What a lot of the parents including myself are doing is trying to raise awareness about bone marrow. There's a Web site – oneforjasmina.com. She's still looking for a match. Anybody with any African-American descent would be greatly valuable."
Find out how you can help here.
How does Jill deal with the pressure to be thin?
"I think the more pressure you put on yourself, the more unhappy you're going to be. Life is so short. If you want it, enjoy. If you want to have a piece of cake, enjoy it. Don't hurt yourself over it. You've gotta enjoy the moment while you can. Part of that is going out and being physical. You've gotta eat, too."
Knowing is in theaters March 20.