PHOTOS
OK! Exclusive: Alanis Morissette's Slim-Down Secrets!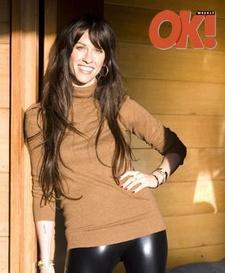 Less than a year ago, Alanis Morissette found herself in a heavy situation: the once-svelte rock star had packed on weight, and the processed food she'd been eating left her feeling unhealthy.
Determined to get back on track, Alanis turned to Dr. Joel Fuhrman's book Eat to Live, a plan that recommends consuming fruit, vegetables, beans and nuts, and avoiding meat and dairy products.
Alanis' vegan diet — one of the more popular in Hollywood these days — has helped her shed 20 pounds since she began the new regime in September.
Article continues below advertisement
Now, the 34-year-old singer who redefined "ironic" is proud to show off her new shape and share her dieting tips with OK! readers.
CLICK HERE to see Alanis Morissette's newly fit figure!
OK!: How does it feel to have lost 20 pounds?
I feel like a 12-year-old! I'm back to what I was born to be, at my best. I used to get out of bed in the morning and things were aching, and I just thought, this is what happens when you get into your 30s. But now I jump out of bed and have so much energy; I feel very alive. Even after a workout, I feel like if I rest a little bit I could go out dancing all night, so that's exciting. I have no more aches and pains, and my allergies are gone, too.
OK!: What were you eating that made you gain weight?
A lot of salt and processed grains like bread. I was a sandwich person, and if I had rice, I would pack the salt on.
OK!: Why did you overeat?
All the restrictions and limitations I'd placed upon myself for many years were let loose. I think it was a rite of passage for me. At 21, I was touring with Jagged Little Pill, so I didn't experience the footloose and fancy-free passage that most people do in their teens and early 20s. My whole life I've been overly responsible. So I was fantastically indulgent for a good nine months. I knew it would be a temporary thing, and it was fun. There was a sexiness to my curvier self that I loved.
Article continues below advertisement
OK!: Why did you want to find a new eating plan?
Longevity. I realized I want to live till I'm 120. There's a lifestyle that I am how happily creating that can, as best as is possible, prevent most forms of cancer and other diseases.
OK!: How did you come to choose Dr. Joel Fuhrman's program?
I went to my favorite bookstore, Banyen Books and Sound, in Vancouver. I saw this book, Eat to Live, and I thought, that's exactly what I want to do. I wasn't interested in some fad diet that was unsustainable, like "lose 10 pounds in two weeks." I don't believe in diets; I think they're short-term and a bit of an emotional roller-coaster. So I opened it and flipped through and thought the weight loss is incidental. The primary focus is disease prevention.
OK!: What is your workout routine?
When I'm out on tour, my shows are so physical that that really takes care of it. When I'm not on tour, I do between a half hour to an hour of light weights, running, biking, swimming, probably five times a week. I also love to kickbox and dance.
OK!: What does your boyfriend (attorney Tom Ballanco) think of your weight loss?
He just cares about my well-being. He thought I was sexy at whatever weight that I've been. I've never felt loved in that way before.
OK!: Will your next big project be to plan a wedding?
I could see in the not too distant future being married with children, absolutely, but I'm in no crazy rush. I wildly respect him. How he views the world, the lens through which he looks at life is very similar to mine. To have that in common makes me sleep well at night.
CLICK HERE to see Alanis Morissette's newly fit figure!
For more on Alanis' weight-loss journey, check out the new issue of OK!, on sale everywhere now!