PHOTOS
OK! Exclusive: Gilles Marini, Man Amour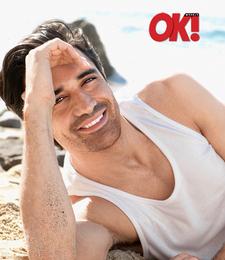 In Gilles Marini's role as Dante, Kim Cattrall's Casanova-next-door in the first Sex and the City film, his al fresco sudsing may be cinema's second most famous shower scene. Now he steams up the small screen as Cheryl Burke's partner on Dancing With the Stars — his sculpted physique and bedroom eyes making him the fantasy Frenchman of millions. "The overnight fame has been overwhelming," Gilles, 33, tells OK!.
Article continues below advertisement
Not to be a buzzkill, but the actor is devoted to Carole, 32, his wife of 11 years — "still a superhot lady I dig" — and their two children. "I love to take them to the park and teach my son soccer," he says. "I hope I am the best dad of all time — that's my biggest goal in life."
OK!: How did Sex and the City change your life?
It was insane. You walk down the street and people whisper. It was just a little part, and it's a massive movie about four beautiful women. I didn't understand how this small character was important.
OK!: What was it like to work with Sarah Jessica Parker and Kim Cattrall?
Sarah is the boss: brilliant and so sweet. When I talked to her at the party after the premiere, it was like, "Pinch me, am I here, or what?" Kim is also very sweet — you meet her and she's a million miles away from Samantha's character.
OK!: And the nudity?
It was hard. I'm shy. Whenever they ask me on Dancing With the Stars to take my shirt off, I'm like, "Seriously?" But Kim was very supportive. She made me feel very comfortable, and I love her for that.
OK!'s EXCLUSIVE PICS OF GILLES:
OK!: You met Carole at a Cannes bar in 1998. Describe the first time you saw her.
She wore a black dress with a big, wide-open back and walked by the restroom. I thought, "She's hot — what's up with that?" We talked and ended up on the beach that night. We kissed. It was like, "Wow!" With French people, it usually happens right away. After 20 days, boom: She got pregnant. I thought, "Very smart, Gilles!" People said it wouldn't work, and 11 years later we're still together.
OK!: How badly do you want to win DWTS?
Badly. I did the show because of my daughter, Juliana: She danced all day at 16 months old. I have a little mini DWTS trophy — it was on a cake — and she loves it. I want Juliana to have the real trophy in her room. It will be the best thing that ever happened.
For more Gilles, pick up the new issue of OK!, on newsstands everywhere Thursday!