PHOTOS
OK! Exclusive: Howie Dorough's Wedding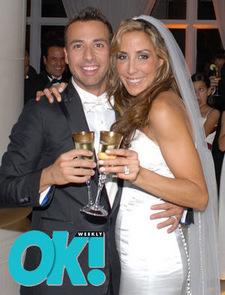 Belting out dozens of swoon-worthy and romantic ballads couldn't prepare Howie Dorough for the biggest day of his life -- his wedding to longtime girlfriend Leigh Boniello.
"I had to hold myself back from crying," Howie tells OK!. "She was so beautiful."
The Backstreet Boy, 34, tied the knot with his lady on Dec. 8 in front of 180 guests, including his bandmates, Brian Littrell, Nick Carter, A.J. McLean and Kevin Richardson, who left the group last year, and OK! was invited for the big bash. After Howie and Leigh, 33, made it official, the couple sat down with OK! to reflect on their special day as they embark on their new life as husband and wife.
Article continues below advertisement
Congrats, describe the day, the wedding!
HD: Seriously, it was a fairy tale, rock star wedding. I couldn't ask for anything more. Honestly, my cheeks are hurting from smiling so hard.
LB: It was amazing. It really went well. We had so many surprises for everyone. The whole thing went on for three days. The house that we had the reception at was 45 minutes away from the church. We provided bus transportation for all of our guests so that nobody would have to drink and drive. We wanted people to be comfortable and able to enjoy it. We didn't tell anybody but Howie and I jumped on a helicopter in front of this 32,000 square foot mansion where we had the reception, there was a helicopter pad right in front where the cocktail hour was being served. So we flew in which was a huge surprise. We got off the helicopter. It was awesome, everyone was shocked.
Howie, what did you think as Leigh walked up the aisle?
HD: Oh my God. I was holding myself back from crying. I had to take a couple big breaths. She was so beautiful. It was more than I ever expected. It was so breathtaking.
Did you cry?
HD: I was holding it back; I definitely got choked up. My eyes definitely watered here and there. I was like this is really happening. The priest told me this is your dream come true, I always wanted to get married in my own church where I was baptized. My oldest sister got married there. It really was a dream come true. It was a fairytale wedding.
Article continues below advertisement
LB: I'm a pretty emotional person, so I totally thought I would. But I think after all the planning, as soon as we were getting ready to go, I was like all right, we're doing it. I didn't even cry, my makeup looked so good, I didn't want to ruin my makeup. I shocked myself; I got in mode. My dad was worse than I was. My dad was tearing up. I'm looking at him like, "Don't start!"
Were you nervous?
HD: Oh yeah, the couple days before we got married everyone was like, "Wow, you're so calm." I was like, "Hey, no big deal!" The last hour before we got married, I was nervous. I couldn't find my cufflinks, so that just started it off. From there, I accidentally spilled a glass of champagne on one of my groomsmen. My brother was like dude, its good luck. He was like enjoy it! It went by so fast. Everyone says it goes by so fast, and I was like, "Yeah, yeah, whatever." It did, it went by so fast. But we had such a great time.
LB: Yeah, definitely. I think more nervous in the morning getting ready, but not so nervous at the church. It went really smoothly.
Did anyone forget their vows/have a problem saying it?
HD: My voice is hoarse because I lost it a couple days ago. But besides that it was all good. I was a little shaky.
LB: No, not at all. We handled the vows really well. We didn't get choked up or anything. We just did it. I was proud of us. We put on a good show!
Article continues below advertisement
What was the most emotional moment?
HD: I think seeing Leigh coming down the aisle. It was amazing. I just kept on telling her I love her so much. I kept saying, "You look so beautiful." It was a dream come true for me. She's my best friend.
LB: Just seeing my dad cry as I walked down the aisle. And my mom of course.
What was your first dance to, "Endless Love"? Describe it.
HD: Yes we did. She has lower base voice than me, so she did the Lionel Richie part. I did the Diana Ross part. Just the fact that everyone was there and enjoyed the moment with us. We got a cover over the whole pool, that was the dance floor. I don't think any nightclub in L.A .could ever even match it.
LB: Not your typical wedding song but it's always been an inside joke with Howie and I. I our house in L.A., we have music on throughout the house. That was one of the songs, when we first moved in we probably heard it like 15 times, like while were cooking and things like that. Our big joke is he sings all the high parts. He does the Diana part, and I do the Lionel Richie part. We did a little of that, I don't know if anyone got the joke. But it ended up being pretty funny.
Article continues below advertisement
What did you serve at dinner?
LB: Everyone got a tenderloin of beef, and a halibut with a lemon zest. And sweet potato mashed potatoes, and vegetables on the side. I'm a vegetarian, and they made an amazing meal with eggplant, mozzarella, roasted red pepper, like a napoleon.
Any last minute problems/hitches?
LB: Besides my fiancé losing his passport two days before our wedding as we're going to go on our honeymoon? Luckily The Firm, his management company was great, they were there, they got it done in a day. We literally got the Fedex package yesterday.
HD: Besides me not finding my cufflinks, that was about it. It actually was really smooth. And besides me spilling champagne on my friend. It was perfect. I was really choked up. I'm getting choked up just thinking of it.
What was your favorite/most memorable moment?
LB: Flying in on the helicopter for sure. I think Howie might have mentioned to you. In order for us to make sure people would leave the church and not congregate we did a butterfly release in memory of Howie's sister, Caroline, who died of lupus. They released two hundered butterflies when we walked out of the church and then we got in to a horse drawn carriage and just basically rode around the block until everyone left and didn't go back in the church It was a nice touch.
Article continues below advertisement
HD: By all means the helicopter. I wanted to do a rock star entrance. Everyone was like, "WOW!" The helicopter swooped around the house a couple of times. It was a drastic entrance. And the butterfly release outside the beautiful church. And we rode in this horse carriage. It was like a fairy tale, like Alice in Wonderland.
Were all the Backstreet guys there?
HD: Yes, everyone was there. Nick unfortunately didn't make the wedding but he was there at the reception. Deborah Gibson was there. And Chris Kirkpatrick from 'N Sync.
What was it like to have them there?
HD: It was awesome. They all got up to say a special blessing to Leigh and I. It was sweet. They're like my brothers, and for me to have them there I got choked up. They said something to both of us. They know Leigh as well, because she used to work for us. The face that they said something, and recognized her, and how long we've been together was so sweet.
LB: I worked for the group so they all care for me a lot. I think they always knew we would get married. They've been so supportive. I just said to Nick, who's the only one who is single, well AJ is too. I just said to Nick, "Don't think you have to stop partying with us! You're not losing a brother."
Article continues below advertisement
Tell me about your honeymoon to Antigua—are you excited?
HD: We're so excited. We just have three days to get away because I have to do some shows with the group, in Columbus, Boston, Hartford and New York. But we're so excited, at least to get away for three days. We were going to do a honeymoon in Africa and Greece for a month but we couldn't do that because of the schedule with Backstreet. But just taking the time to go to this place, all-inclusive with a butler, we're just so glad to chill and relax.
How about having children?
HD: We've definitely talked about kids. We're both excited about taking on that next chapter in our lives. I think we've had some amazing years of being on the road and partying and having fun and really living life to the fullest. I think now that we are getting closer to our mid-30s, we're not thinking so much about ourselves any more. We're now about creating a family together and taking our lives to the next chapter.
Reporting by Jon Warech, Jacqueline Neiss & Lillian Pons
For more on Howie's wedding, check out the newest issue of OK!, on newsstands Thursday!