PHOTOS
OK! Exclusive: Shar Jackson Works It Out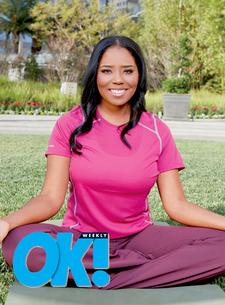 As a single mother of four, Shar Jackson has her hands full. The 31-year-old is usually tied up tending to her children, Donnie, 15, Cassie, 12, Kori, 5, and Kaleb, 3, and while that may leave little to no time for "me time" for other moms, Shar is not one of them. The aspiring rapper takes time out of her busy schedule to take care of her health and fitness and tells OK! sometimes you just got to find the time for yourself.
Article continues below advertisement
I do what I can when I can," she says. "When my kids are at school, I have to work. But I try to take 15 minutes during the day and meditate. During the day, that's Mommy time."
Meditation is not the only thing Kevin Federline's ex does. Armed with a fourth-degree black belt in tae kwon do, jujitsu and kung fu, she warns, "Don't mess with me!"
As for time with her kids, Shar cannot get enough, telling OK! she's a "dorky mom."
"I have so much fun with my kids. We laugh all day long together. But don't get me wrong; they know Mom will lay down the law and must be respected."
And how does she feel about another famous mom she's tied to -- Britney Spears?
"I feel like that is her journey," she says. "What she is going through at the moment, that's what she needs to go through and work out in her own way. I'm one of the few people who actually feels that way. Leave the girl alone."
For more on Shar, check out the latest issue of OK!, on newsstands now!