PHOTOS
OK! Grants John Mayer's Wish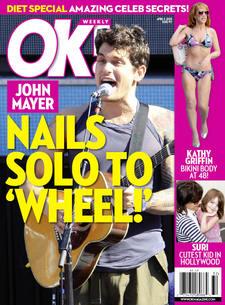 UPDATE: Latest from our guy John on Twitter, linking to this very special story and cover crafted especially for him – "Credit where it's due: this is hilarious." Glad you liked it.
-------
As the song goes, "A dream is a wish your heart makes," but these days you don't have to be fast asleep, just logged in to Twitter to see your wish come true.
Today, musician John Mayer tweeted: "It would be fun, just once, to catch the cover of a weekly tabloid and see the headline 'John Mayer Nails Solo to 'Wheel!'" (editor's note for those not in the know, "Wheel" is a song by John.)
Article continues below advertisement
While we're a celebrity weekly and by no means a tabloid, we're listening, John, and we've decided to grant your wish for your dream cover, by giving you your heart's desire... at least in digital form. Why not recognize an artist for playing his heart out?
Behold, Mr. Mayer, this one's for you. We hope you like it!
Love, OK! Magazine.
More pics we like of John: