PHOTOS
OK! Interview: Ashley Greene Spills on New Moon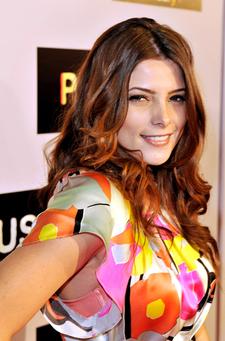 "I knew it had a following, but it'd be pompous to expect that it would do this well," Ashley Greene says of Twilight, Stephenie Meyer's book-turned-movie, which earned more than $379 million worldwide, and spawned a sequel, New Moon.
In the film, now shooting in Vancouver and due in theaters Nov. 20, Ashley, 22, once again sinks her teeth into the role of vampire Alice Cullen, sister of Robert Pattinson's Edward.
Article continues below advertisement
"It's amazing," Ashley, who works with the Donatemydress.org prom dress drive and has been linked to actor Ian Somerhalder, tells OK!. "Every day I wake up and feel so lucky."
OK!: How does Alice change in the sequel?
My character's going to be a good 60 percent bigger in the second film. You get to see the development between Alice, Bella and Edward.
OK!: Does Robert have any problems with putting on that vampire makeup?
He likes being pretty laughs! No, I think any guy actor is kind of like, eh. But it's part of the job.
OK!: Taylor Lautner, who plays werewolf Jacob Black, has really transformed his body so that he looks more mature in the sequel.
I've spoken out publicly about how ridiculous it was that he was going to be replaced, and I think he worked harder than anyone to keep his role. He's gained almost 30 pounds. We're so proud of him. He's in the gym three times a day and eating all the time. I was like, "I want your job, you get to eat everything!"
Article continues below advertisement
OK!: How do you spend time off the set?
There's a street in Vancouver called Robson, where we jam with people who play instruments. I'm going to take up guitar, because Jackson Rathbone, Nikki Reed, Kristen Stewart and Rob Pattinson all play guitar and sing.
OK!: Is the cast very close?
Yeah, you create this intense bond with these people. It's really natural.
OK!: How is Robert handling being the world's most desirable man?
Rob's always like, "I don't belong here, what's going on?" He's not the most sociable. He's not one of those people who can go and talk to anyone. He's kind of a hermit and a little awkward. He got thrust into this limelight, but he's dealing with it. I think it'd be kind of difficult for anyone.
OK!: It's been rumored that Rob had a crush on Kristen. Is that why he's not dating?
I think he's loving being single. He's pretty much one of the most eligible bachelors out there right now. So if he was sad before about Kristen, I think that he's all right now.
Article continues below advertisement
PHOTOS OF ROBERT & KRISTEN'S NIGHT OUT:
OK!: Does Kristen stay in touch with her boyfriend, Michael Angarano?
I know that she cares about him a lot and they have a great relationship. On the last film, he would hang out often.
OK!: Who are your celebrity crushes?
I get crushes on everyone. I love everyone in Kings of Leon. I actually heard they want to be on our soundtrack, which would be so cool.
To read the complete interview — and to get all the inside details on New Moon — pick up the new issue of OK!, on sale everywhere now!