PHOTOS
OK! Interview: Brooke Shields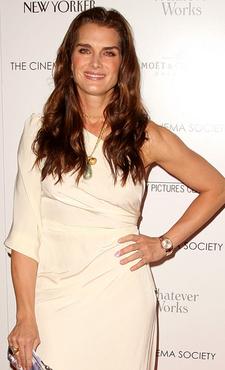 Moms don't come much more glamorous that Brooke Shields.
So when OK! got chatting with her at the launch of A Colorful Cause, a series of summery clothing collections designed by stars including Gwyneth Paltrow, Debra Messing and Brooke for Lilly Pulitzer, we wanted to know all about her summer style and if her little girls Rowan, 6, and Grier, 3, she her fashion DNA.
Plus we discovered that her oldest is a gambling prodigy!
Article continues below advertisement
The special collections will benefit the Epidermolysis Research Foundation.
OK!: Why did you get involved in this project?
Brooke: I grew up wearing Lilly in Southampton and Long Island with my dad's family. It was a staple.
I also know a mom who has a little boy who has EB Epidermolysis Bullosa, so it then sort of made sense."
Now you've tried your hand at designing, would you like to do more?
I would love to. I wouldn't do it just to put my name on something: I would really want to be involved in the design period. It's kind of why I wouldn't have a ghost writer — if I'm going to do it, I might as well really engage, and if I'm going to fail, I at least want to be responsible for the failure.
What do your girls think of your designs for A Colorful Cause?
They love it. They didn't wear that design, but they wore Lilly Pulitzer to the Kentucky Derby. We went to the Kentucky Derby for the first time as a family, and of course my older one Rowan, 6 picked the winner.
The long shot?
We tried to talk her out of it. It was 50-to-1. She said, "I like the name and I think it's good," and I said, "Now honey, it's 50-to-1. Those aren't good odds.'. But she said, "Mom, I like it." And I was like, "Alright, whatever." She got like $6,000.
Article continues below advertisement
Did she get to pick something out to spend some of the money on?
We put it in her college fund and she appreciated that. Her biggest thing was that she got a Kentucky Derby Barbie.
Are they opinionated about what they wear?
Completely. I had them until about two. Then I lost all control. Rowan is a complete tom boy and Grier would wear a floor-length princess dress everyday if she could. And it's non-negotiable. She needs to be in full regalia.
And do you agree with them over what they wear?
I don't fight it. I'm saving it for the other things I need to fight them on.
Do they take your advice because you have a background in the fashion industry?
I always sold other peoples' fashions so I wore jeans and t-shirts and I put on what they needed to sell and I'd sell it. So as far a nuturing my own style, it took me quite a long time to do it. So with them, I don't try to impose that.
Article continues below advertisement
I wish I'd grown up with their commitment to their own style.
Do you think either of them will follow you into modeling?
I don't think they have the patience for it. I think if they do, I think they'll think they want to, but when it gets down to the real work, I don't think they'll have enough patience for it or desire to go through all the other extra curricular stuff that comes with it. I really don't.
Would you let them be models?
As long as they get an education, they can do whatever they want. They're not getting any of my help until they get an education. Having said that, of course, I think they're the most brilliant kids ever to hit a stage.
Do they have an opinion of your style?
Well, I'm amazed how beautiful they think I look.
Why would you be amazed?
Well, because you live with them all day long, and then tonight I was all dressed up, and the little one, Grier, said to me, starry eyed, "Mom!" and so Rowan said, "You look beautiful." Honestly, it's because there's sparkle, not because it's classy. And then the little one said, "You look stunning!", and I was like, "Stunning? You're my favorite human beings."