PHOTOS
OK! Interview: Carrie Ann Inaba and Bruno Tonioli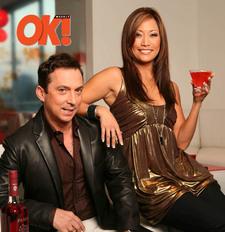 Carrie Ann Inaba and Bruno Tonioli put their War aside — Dance War, that is — to sit down with OK! for a meal and a chat. Over lunch at Ketchup ( for recipes), the choreographers, who are each training a team of dancers/singers to face off with each other on the show, opened up about their dancing days, what's up for the next season of Dancing With the Stars and their favorite meals.
What do you think of Dance War so far?
Article continues below advertisement
Carrie Ann: I'm very excited. They're such great performers and I really want people to get to know them. It's about people feeling attached to not only Bruno and me, but also the performers and the groups and I think they all did really well.
Bruno: I couldn't be more pleased. The kids are good; it's entertaining. I'm proud of them. They did a great job.
What do you hope for in the coming weeks?
Carrie Ann: I hope for a lot of quality time with the kids in the studio because that's where you start to find each other's personalities and when you're developing a team like this, it's about learning how to work with each other and collaborate. I think the only way you can do that is in the studio. I really want these kids to start to feel comfortable with each other, like they can explore and push their boundaries in rehearsals.
Bruno: You see them do all these live numbers, different styles and, of course, the horrible elimination process, which is part of the game. There's a lot of drama and a lot of entertainment and a lot of fights, I believe.
Carrie Ann, what do you think of Bruno?
I love Bruno. I think he's one of the most colorful people I've ever met and I know he's so creative and he's very intelligent. We have very different ways of doing things so I think we're fairly matched. But people say I'm at a disadvantage because he's had more experience than me, but I'm not afraid!
Article continues below advertisement
Bruno, what do you think of Carrie Ann?
She's a friend. We work very close together. You couldn't wish for a better partner. It just clicked in from day one. Perfect casting. It's unusual because Len Goodman and I did it before, we came here and usually when you put something new in the equation, you don't know if it's going to work and Carrie Ann was her own self from day one. That is great. It's really teamwork and it just happened.
Carrie Ann: I'm always blown away at how creative he can be with those comments and sometimes I'm envious he's able to say things so eloquently, with so much color!
Do you guys hang out or go to dinner?
Carrie Ann: Not that often. I don't go out that much. I have a boyfriend dancer Artem Chigvintsev at home and so any minute that I don't have to be at work, I try to spend it with my friends and my family and my boyfriend.
Article continues below advertisement
Carrie Ann, you were raised in Hawaii. What did you grow up eating?
Spam! laughs And hot dogs. But also a lot of fresh fruit. I'm very lucky because I love fruit and to this day, that has saved me because I'd much rather have fruit than cookies. In regards to my diet now, I eat more for nutrition. I think as a dancer, most of my life, I ate to remain thin whereas now I eat to give my body the nourishment to get through these grueling days.
And you, Bruno? What did you grow up eating in Italy?
My grandmother used to cook for eight every day — sitting down lunches and dinner, the way you do it in Italy, you sit down. And when my parents could afford their own place, I went with them but still my mother used to work but used to come back from work to cook lunch for my father, come back from work, cook dinner for my father and me. First, we didn't have microwaves, anyway, but it was a prepared meal every day, twice a day. My mother, on Sundays, used to prepare things to use during the week, like freshly made broth. It wasn't chicken stock or pasta sauces. She always made her own homemade pasta. So, the amount of dedication that goes into what these people used to do — it was a long time ago but you come to appreciate the hard work and the care about little things.
Article continues below advertisement
Dancing With the Stars starts up right after Dance War ends. Is that correct?
Carrie Ann: We'll have maybe a couple weeks off and I'll maybe go off to a spa or something and pull myself back together and get ready.
Bruno: Well, I have to go back to London because I got something else cooking which you'll know about. I'll be back here on 10th of March.
How will you top last season?
Carrie Ann: How can you top Marie Osmond fainting? Is that what you're asking? I don't think that's possible.
Bruno: You can always do better. We always want to do better. It's the same, but better!
For more on Carrie Ann and Bruno, check out their , and pick up the newest issue of OK!, on newsstands now!