PHOTOS
OK Interview: Colbie Caillat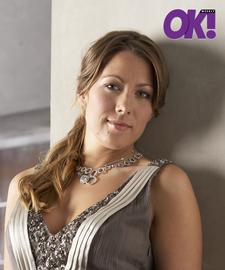 Few have had as quick a rise to the top as Colbie Caillat has. Thanks to MySpace, the 22-year-old singer-songwriter was discovered in no time as she garnered up to 10,000 plays of her first single "Bubbly" per week. As she adjusts to fame and prepares for future collaborations (John Mayer, perhaps?), Colbie takes some time out to pose for OK! and chat about her new life, her songwriting process and why she's a low-maintainence type of gal.
Article continues below advertisement
Can you talk about how you got "discovered"?
It was really MySpace. About two years ago, one of my friends uploaded my songs because I didn't know how to do it. Over a six-month period of time I started getting lots of friend requests and plays. Then when I uploaded "Bubbly" my plays were going up 5,000 to 10,000 a week! It was unbelievable. At the time I wasn't playing live so I didn't know if it was for real. Once I started playing shows and seeing that people were driving from other states to see me, it really hit me. This was so unintentional. I never knew I could get a career out of this. MySpace is what started it all.
So you didn't have your heart set on being a singer?
I did, but I'm not really comfortable pushing it on anyone. I didn't want to call and schedule shows or call and make people listen to my music. Luckily, my friends and family really stayed on me and made me put myself out there.
Now does it feel like everything was meant to be?
Yes it really does! It has taken some getting used to though. In the beginning, I really didn't like TV appearances, performances, photo shoots like this, playing live shows, being on a tour bus. Now it is just like anything — it takes some getting used to. This was like starting a new job. Being a musician is a job — it is just a really fun one!
Article continues below advertisement
You're a songwriter first and foremost. What is your process for writing a song?
Usually, I start playing the guitar. I play a few simple chords and because they are simple, I work to make the melody around it more interesting. I start the song and a lot of the time I get writer's block! I call up one of the friends I have been writing with forever and I'll ask them to help me. They round out my songs and complete them.
Do you keep a journal or pull from your personal experiences when you're writing?
I pull from experiences that occur in that moment, but I can never go, "Oh, I like this guy and I'm going to sit down and write a song about him." I just start singing. "Bubbly" wasn't about anyone. It just came out! My producer Jason Reeves and I joke about songs traveling in the airwaves because it seriously just came to me — there was no thought process whatsoever. I wrote "Battle" about my feelings on the war and about a family issue I was going through at the time so every lyric in that song is a thought. Some of my songs are more thought, some just come to me.
Article continues below advertisement
How are you adjusting to your sudden fame?
I guess I just go with it. We did the Today show and five minutes before we went out I was crying. I did not want to go out on that stage! And when I perform on my own tour, I have to talk myself into going out on that stage every single night.
How do you get past the stage fright?
Luckily my band is so great and we have such a great time together that they make me feel good and comfortable. The more I do it, the easier and more fun it gets but it is definitely a slow process. I don't know what it is — I think it is just nerves. It happens when I'm not singing too! I was at my sister's engagement party and I had to give a speech and right before it I was hot and shaking. I get anxiety! It's just there!
Do you critique your performances?
There are a few shows where I come off the stage and say, "Wow that was so much fun!" By the time I get to the last song, I don't want to leave. Now I get why people like performing. Ninety-five percent of the time though, I am really judgmental of my performances. If I go off-key once during the show I say the song was ruined!
What are your fashion do's and don'ts?
Article continues below advertisement
I like everything to be really natural. I like to feel the same when I'm on stage and when I'm not. I like the look more. I like to be comfortable. I love to be in Hawaii — everything very natural and my style reflects that. You don't wear makeup there. Jeans, flip-flops and a tank top is the standard. When I do shows, I have been doing dresses and boots or long jeans and boots. I like to kick it up one notch when I'm on stage!
What are your beauty do's and don'ts?
Bronzer — pink/brown colors and lip gloss that is really shiny. I like some light mascara and eye shadow — again, everything very natural, neutral, earth tones.
What was your favorite look from this shoot?
The last dress with the slit on the side. It was just such a fun dress. I also think you're always most comfortable at the end and that's when you look the best.
Article continues below advertisement
Do you feel pressure to look a certain way?
I want to look good for myself. When I feel confident and comfortable I'm better at my job. I don't get pressure from anyone around me. I pay attention to how I look but I don't let it go too far. You meet certain people — certain stylists — and they act a way that just makes you want to go even further away from worrying about your clothes and the way you look.
Are you going to be touring for the rest of the year?
Yes, but I'm going to try not to as much as possible! I need to be touring for the first six months, but I love writing songs and being in the studio as much as possible. That's what got me here. I don't want to get too far away from that. I need to think about the next album.
Who is your dream collaboration?
John Mayer! John Mayer for sure. We e-mail each other back and forth. It looks like it might happen soon. He is one of my idols so it is so weird to be talking to him now. He gives me great advice as a new artist and it is just so cool.
Article continues below advertisement
You're a new artist so everyone wants to compare you to someone. Which comparisons are most flattering?
Well, of course I love when people compare me to Jack Johnson and John Mayer. I've also gotten Sheryl Crow, so those are all wonderful comparisons.
Your fan base is mostly teenage and college-aged girls. How do you handle being a role model?
It is overwhelming. I'm 22 — I don't know what I'm doing! I'm still learning. Knowing that kids look up to me and love my music makes me really think twice. I don't do bad things, but if there's ever something that is even questionable, I definitely think twice about it. I go to bed early. I may go with my band to a bar and have a drink, but it isn't that appealing. I'm a lot more mellow. I like to go to the beach, have a bonfire and play music.
Do you still study with a voice coach or take guitar lessons?
Since I have been on the road it has been hard for me to do that, but it is very important to me. You have to keep your voice up and keep improving so whenever I can take lessons and I'm home for a bit, I do.
What do your tattoos mean?
I have a tattoo on my arm — it is a flower — the same flower that is on all of my merchandise. It is kind of like the Colbie Caillat symbol. I'm having a guitar custom-made with the flower on it right now. The second one is on my hip. My best friend and I got a tattoo of a Plumeria, our favorite flower from Hawaii, on our hips when we were 18. The third one is one I just got with my producers — Jason Reeves and Michael Blue — it is on my foot and it is a bluejay on top of a coconut; it combines all of our nicknames in one picture.
Article continues below advertisement
You're an iTunes sensation. What would we find on your iPod?
A little bit of everything. Jack Johnson, John Mayer, Bob Marley, Nat King Cole.
What is the best advice you've gotten so far in your career?
Because of my stage fright, someone told me that every night before I go out on stage I should remember that I'm there to make people feel good, not there to prove myself to them. That has helped me so much.
For more on Colbie, check out her gallery and check out the newest issue of OK!, on newsstands Thursday!