PHOTOS
OK! Interview: The Girls of Dancing With the Stars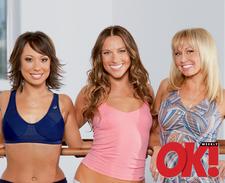 It's time to ! The sixth season of Dancing With the Stars premieres Monday, March 17, with a whole new slate of contestants and simmering dance numbers. But before pro dancers , and tear up the floor with their new partners (Cheryl is paired with actor Cristian de la Fuente; Kym, illusionist Penn Jillette; Edyta, football player Jason Taylor), the trio worked up a sweat with OK!, revealing their workout and diet secrets and dream celebrity partners.
Article continues below advertisement
Why is dancing such a great workout?
Cheryl: You exercise everything, from head to toe.
Kym: You're losing weight and burning calories without even realizing it. Dancing benefits your core strength.
Edyta: It shapes your buttocks,waist and legs. There's no better workout!
What's your training schedule besides dancing?
Kym: When we're doing DWTS, we really don't have a lot of time to do anything but teach our celebrity and do the show but I always try and fit in a Pilates class. There's a place in West Hollywood that's absolutely amazing: Sebastian's Pilates Plus. I also have my own yoga ball at home, which I think is great to hop on and do some crunches. When I'm not doing the show, I like to go walking with my friends up in Laurel Canyon. I'd rather go outdoors and walk than get on a treadmill.
Edyta: I try to go to the gym about three days a week and I do mostly cardio, running on the treadmill or doing the elliptical machine for half an hour, 40 minutes. Then I do some exercises like squats and sit ups. All the exercise I do doesn't involve weights. It's just working with your own body.
Cheryl: Just dancing on the show and on the DWTS tour. When we're on tour, it's such a workout. It's a two-hour show and it's about 30 numbers. Since we're starting the beginning of the sixth season, right now we're rehearsing four hours a day. It's only going to get more intense.
Article continues below advertisement
What's your typical day's diet?
Cheryl: It's not very consistent but I like to have my coffee in the morning and for breakfast I like a muffin or fruit all throughout the morning, early afternoon. And for lunch, I love going to Whole Foods and getting a salad with chicken or tuna and vegetables with balsamic vinaigrette. I can't cook so for dinner, microwaveable stuff is always great like Whole Foods packaged turkey meatloaf. For snacks, either granola bars or a banana.
Kym: I have to start the morning with coffee. If I'm in a rush, I'll skip breakfast, which isn't good. For lunch, I will eat my carbs with a turkey or tuna sandwich. Dinner is vegetables and salmon or chicken. I try not to eat many carbs after 5 o'clock. I feel that's the key to my diet. I do love bread. If you eat that at lunchtime, you have the rest of the day to burn that off.
Edyta: Normally I eat yogurt and fruit for breakfast. I'll eat some salad with chicken for lunch with a lot of vegetables and normally snack with fruit like grapes, peaches, plums, apples, oranges. In the evening, I'll have a little bit of rice or pasta with some chicken or fish and green vegetables.
Article continues below advertisement
Favorite indulgence food?
Cheryl: Pastas and breads.
Kym: French fries and Haagan Daz ice cream.
Edyta: Gummi worms and M&Ms. But if you put me on an island and told me that I have to choose one thing to eat till the end of my life, it's going to be bread and butter.
Do you ever worry about your weight?
Cheryl: When I stop dancing, I do. I have to eat right because I'm not as active. Thank God since I started the show, I haven't really had to watch what I eat.
Kym: Yeah. I do have to be aware, especially when I'm getting older. When I was in my early 20s, I could really eat anything I wanted. I notice a difference if I don't exercise. Portion control is my motto and balancing it with exercise.
Edyta: Of course! If someone will tell you they can eat anything they want, and not exercise, they are either a freak of nature or they're lying. When I was 7, I had a little baby fat and I didn't like it so I would do hundreds of sit-ups every day. I stopped doing it obsessively but I guess what you do at an early age stays with you and now it's easy for me to work out.
Article continues below advertisement
What's your favorite part of your body?
Cheryl: My back. I always wear low-backed costumes. There's a reason for that!
Kym: I like my waist; everyone says I have a really small one.
Edyta: My abs. It's… like a four pack laughs.
Least favorite body part?
Cheryl: Oh, my lower half. I think it's genetic. My mom has got big hips and a big butt. I know that if I were not to dance, my butt would be huge.
Kym: Often I hate that I have a butt.
Edyta: My arms and my legs and my butt laughs.
How much do you weigh?
Cheryl: I don't weigh myself. I can see if I'm gaining weight or not. It's pretty visible.
Kym: 120 lbs.
Eydta: Normally around 117. During the season I'll probably be more like 114.
.
Who would your dream dance partner be?
Kym: George Clooney is number one. He'd be incredible — very sexy, debonair.
Article continues below advertisement
Edyta: Johnny Depp has such an interesting personality that I would love to see how he would do dancing. I know he wouldn't be afraid to try things!
What can we expect this season from you and your new partner?
Cheryl: Cristian is very musical and charming and always has a smile on his face. He's able to catch on so quickly. He improves literally every day. Hopefully we can last long enough to see what kind of dancer I can mold him into.
Kym: I know the funny couple is going to be myself and Penn. We are going to put a little bit of magic in our routine. Penn is like a big teddy bear. He's a very tall man, 6'7," but he's blown me away with how graceful he is.
Eydta: Jason is very coordinated, very natural, although he says he only danced twice in his life. He's very humble. Jason told me when he's going to back to his locker room and football team, they're going to tease him like crazy so I think I have to make it sexy so those teammates of his aren't going to say he looks too feminine.
Article continues below advertisement
What do you think of your costumes, which you help design?
Cheryl: I've always had a love for rhinestones. What really attracted me to dancing were the costumes. I know what looks good on my body and what doesn't. It's important I feel comfortable in my costumes.
Kym: I love the costumes. We come up with the ideas — we go and sit with the designer and tell him exactly what we're wanting for the next week. Sometimes I'll look on the Internet, get some ideas from musicals. I get inspired by current fashion — Vogue magazines — or photos from competitions from around the world. Also I'm all for the fake tan. That's a good trick — put some fake tan on and it defines your muscles.
Edyta: I have a lot of input on what I wear. They expose a lot of the body, but I think that's what makes it interesting.
How's your love life?
Kym: I don't have a boyfriend. I've been so busy with DWTS. It would be nice to find someone. I'm on the lookout! I'm a bit scared about the dating in America because I've heard men can date many women at once. I don't know if I'm into that! It's not really like that in Australia.
Cheryl: I am unattached and happy. I think this her recent split from actor boyfriend Matthew Lawrence was the best thing for me and I'm single and back on the market but not ready for a relationship.
Edyta: My husband former DWTS dancer Alec Mazo is extremely attractive. He's my best friend. I'd love to have kids maybe in like three or four years.
For more on Kym, Cheryl and Edyta, check out their gallery and pick up the latest issue of OK!, on newsstands now!