PHOTOS
OK! Interview: Jessica Collins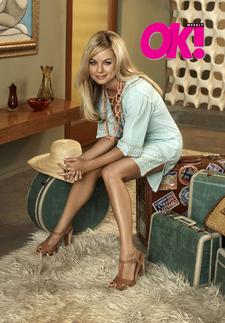 Many actors get nervous when the script requires them to strip down to their skivvies, but not Jessica Collins. The actress, who plays Joshua Malina's mistress on ABC's Big Shots, sees her near-nudity as a reason to get in shape.
"It's amazing how motivating being in your bra and underwear on national television can be!" she tells OK!.
To tone up her body, the 36-year-old sought the help of trainer Christine Hazelton, who didn't exactly push her to her limits in the gym.
Article continues below advertisement
"I was amazed how much less I was working out and how much more I was eating," she says. "I work out two to three days a week with her and do two to three days of cardio on my own."
She admits to having felt the pressure to be stick thin during her early days in Hollywood, but now Jessica says she's happy where she's at.
"We women are way too hard on ourselves," she says. "I don't know who some women are dressing for, but we should be celebrating our bodies."
For more on Jessica, check out her gallery and pick up the newest issue of OK!, on newsstands now!