PHOTOS
OK! Interview: Lucas Grabeel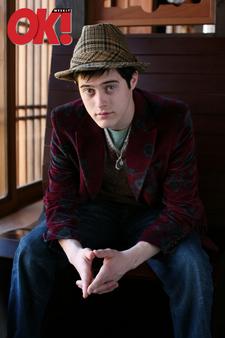 Lucas Grabeel hit the big time when High School Musical exceeded everyone's expectations and blew up across the country. Before he knew it, the 23-year-old had had gone from aspiring actor to teen idol, but Lucas insists he's still the same ol' guy from Springfield, Mo. Now shooting Lock and Roll Forever, a musical co-starring Japanese band Oreskaband, the double-threat chats with OK! about his rise to fame and what's going on with High School Musical 3.
Article continues below advertisement
How have you dealt with being in the public eye?
That's the least favorite part of the job for sure. I like working and I like being involved with the production, pre-production and post-production — the actual creation of the project — rather than aftermath of pushing the films and marketing and all that. It's a tough game to play. I'm the artist guy. I'd much rather be on location somewhere filming or locked away in a cabin playing music.
Did you go out and splurge on some cool toy when HSM made it big?
Actually I didn't. I was really worried that that was going to be it. High School Musical, when it was a big success, we didn't really see that until much later on. It was a while so I was saving all of it and storing for harder times. I still have that mentality. I don't splurge all that much. Yes, I live in a new apartment but I'm still renting. I bought a new car but I didn't buy a flashy one. I didn't buy a new car. I bought a used one, but newer than what I had. I try to be as sensible as I can because you never know with this business. The higher you are, the harder you fall so you need to be prepared.
Article continues below advertisement
What does your family think of your success?
They are absolutely elated. My parents both have always wanted me to do this. I was never pressured. It was always my idea and they were just like, "Yeah go off." I've always been very independent and taking care of myself. And now, they just couldn't be more proud.
Is it hard sometimes to have friends and live a normal life?
I'm blessed with a large group of friends and good support system back home and here in Los Angeles. It's hard enough just to keep tabs on those people and keep the people I love around so I don't make new friends as much, but man I can't wait for a time when I'm in Los Angeles for more than five minutes so that I can spend some quality time with friends.
Why is America obsessed with the personal lives of the HSM cast?
We're just normal people. It's not like we should be looked at under a microscope. We're not any different than anybody else. People are going to be interested in what they want to be interested in and if it's the lives of six kids then all right, cool, but I'm not going to feed into it as much because I just don't see the importance of it.
Article continues below advertisement
How has it been working with the girls of Oreskaband?
These girls are absolutely a joy. They are the most talented, selfless and passionate people I've met in a really long time. They really just come to work every day with the biggest smile on their face and it's not because they're coming to work, it's because they're living life. I've seen them on-set and off-set and they're happy. They're getting to do what they want and pursue their career in music and they're getting to do it with their best friends. It's an amazing thing to watch every day and the effect that they have on other people is extraordinary. Everyone is affected by it — from the grips to the executive producer.
How does the language barrier affect your relationship with them?
That just adds comedy. Talking with people sometimes gets in the way and I think it's a reason why a lot of people don't have secure, balanced relationships because they do a lot of talking. That's definitely the Hollywood way, especially on sets, but with this you can't do that. You can't just BS your way through a conversation with them. You talk about what's important and then you communicate through other ways, through laughter and music and sharing stories of experiences.
Article continues below advertisement
So what have you all bonded over?
This whole movie is based on rock and roll, and music has been a true thing. I bring my guitar to set and we sit around and play and sing Beatles songs and things like that. There's definitely a connection with music. Everyone was just so funny on this set that we were laughing the whole time as well.
And where are we with High School Musical 3? Is everyone coming back?
I signed my deal with them so I think yeah, I'm at least signed up for it. It's next year some time in the spring, but we haven't seen any scripts or anything. I'm not sure if everyone else is on board. I've been traveling so much, I haven't talked to any of the guys yet. I'm pretty sure most of everybody is.
Have you been able to keep in touch with your HSM friends with your bus schedule?
Occassionally, but Zac Efron's either is Australia or Europe and Ashley Tisdale is in Canada and Corbin Bleu was in Canada. They're all over the place.
When you aren't working, what do you do in your free time?
I'm a very laidback kind of guy. I don't like doing much really. I like doing any kind of art. I play lots of instruments. I like to paint, draw, write. I basically kind of cocoon myself and hang out. But, you know, I have lots of friends that come over and hang out as well and love to play video games and watch movies.
For more on Lucas, check out his gallery and pick up the newest issue of OK!, on newsstands Thursday!