PHOTOS
OK! Interview: Mark Steines & Leanza Cornett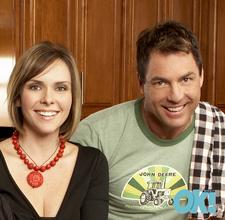 Forget the game and the commercials. The most important part of a Super Bowl party is the food and no one knows that better than Entertainment Tonight's Mark Steines. For the anchor, the biggest of sports days is nothing without good food, so year in and year out, the 43-year-old and his wife, Miss America 1993 Leanza Cornett, 36, try to one-up their game. The couple, parents to sons Kai, 5, and Avery, 4, chat with OK! about their Super plans.
Article continues below advertisement
What makes a perfect Super Bowl party?
Mark: You need to have the right combination of people, where everyone feels comfortable, and kids as well. We've kind of grown into that stage now where the kids come and entertain themselves and run around, and if we heat the pool it's always fun for them to jump in. It's that and there's food and there's booze and there's the right team. It is the greatest show on earth really.
Do you have any Super Bowl game day traditions?
Mark: We have some friends who come over who are musicians so we always sing the national anthem. And then it's a competition to see how many calories we can eat in one sitting. It's just constant. Leanza puts the food down and keeps rotating it. The other thing we do is the commercials. If the game gets boring everyone gets into the commercials. Anything with a monkey is funny. If it's got a monkey in it we laugh at it, even if it's stupid. Usually the beer commercials are really creative and interesting. The dot com craze, when it was going on had some fun stuff in it, but that's kind of passed.
Article continues below advertisement
Leanza: The fun for me is planning a menu and getting the guests together. I'm the event planner of the whole deal.
Is there any gambling on the game?
Mark: Every now and then we may start a pool — nickel and dime kind of stuff — 10 bucks here, five bucks there. There's no big gambling but it keeps things interesting. You can bet on everything. We'll do the coin toss or the little squares with the score. Actually I won last year and everyone said it was corrupt because it was at our house.
What are some of your favorite game time foods?
Mark: It goes between salt and sweet. Once you have the sweets you have to go back to the salt. So, that's kind of our running thing. It's like, "Okay, I'm done with the brownies, let's bring out the nuts." Leanza is really the mastermind behind what is served for the Super Bowl, but if there is any grilling, the grill is right outside the back door so I'm involved with that.
Article continues below advertisement
What's your favorite Super Bowl dish, Leanza?
For the Super Bowl, I make a killer smoked chicken chowder and it is by far the biggest hit. I'm a big fan of comfort foods for ball games because they happen during the fall or winter months. Most people make chili and that's cool. This is just kind of a different take on that. It's got smoked chicken and diced potatoes and onions and chipotle peppers and mushrooms and it's in creamed based, and it's delish.
What's Mark's favorite dish that you make?
His favorite dish is a saki-marinated sea bass. I roast it and then I make a coconut curry sauce. It's pretty involved but I've made it so many times that I can do it with my eyes closed. That's his favorite thing,
Where did you learn how to cook so well, Leanza?
My mom cooked every night but she had like her four or five main dishes and that's all we ate as a family. When I started touring with Miss America, it was the first time I had been traveling and was able to taste different dishes from different restaurants and different parts of the country and developed a palette. My traveling companion during that time was a cook and she would read recipe magazines while we were on the airplane together. I started to get into it and by the time I moved out to California it just sort of hit me that I can create these things that I ate in restaurants.
Article continues below advertisement
Are you into the football or are you too busy cooking to watch?
I have a TV in my kitchen and I usually have the game going on in there. I do watch and I like watching the big games — the playoffs and the Super Bowl. But, it's not necessarily my thing. My thing is the food and the party involved.
Are your kids football fans?
Mark: They're not actually. Avery is certainly not a football fan. Kai is into the baseball thing. He's very athletic. He is a lot like me in that sense. He just wants to go, go, go. But I can't get him to sit and watch a game. He'll run around with a football but it's still a little big for him. He still hasn't gotten into the football craze yet, which is okay. I don't want to push him because I have injuries from playing — back surgery and I blew my knee out. I'm still licking wounds today in my 40s and that's part of the price you pay, but I also gained a lot. I tell people that learning what it's like to be a team player and doing your job even when the team fails, running until you puke, has paid off for me in many ways. At this point if he came to me and said I want to play football, I would say, "Okay, let me sit you down and tell you the pros and cons of it."
Who would you like to see win it all this year?
Mark: This year could be a great year because the New England Patriots could have that undefeated glory season that comes once or twice in a lifetime. I would love to see Brett Favre have one last bang of glory. I would have loved to seen the Patriots and the Dallas Cowboys go at it. That would've been the ultimate game — as long as Jessica Simpson doesn't show up!
For more on Mark, check out his , read the and pick up the newest issue of OK!, on newsstands now!