PHOTOS
OK! Interview: The Stars of Jericho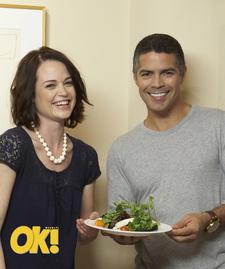 Living in a post-apocalyptic world in CBS's Jericho doesn't allow for much fine dining, but OK! can come to the rescue. The drama's stars Esai Morales and Sprague Grayden, who play Army Major Beck and Heather, respectively, wined and dined with OK! at Santa Monica's Michael's, where they chatted about their (mostly) healthy lifestyles and why eating organic is the way to go.
What did you grow up eating?
Article continues below advertisement
Esai: Mayonnaise sandwiches. I was a poor kid, Brooklyn born. Waiting for my mom to come home from work I would put mayo on Wonder Bread, fold it in half and then bite a piece out of the center. I also had a basically Caribbean diet — rice, beans, chicken, stew and meat. For the most part, I now try to make up for that!
Sprague: I'm from Manchester, Mass., so it was lobster, lobster and more lobster! Also, lots of fish that we caught in the summers, clam chowder and roast beef sandwiches. But my mom was pretty healthy; we had a lot of chicken and broccoli and rice as well.
What's your relationship with food like now?
Esai: For a good 10 years, I've been on and off doing organic bouts and then I'd go back to eating regular crud. I go to New York and Puerto Rico and I'll have a week of eating dangerously, gain about 10 to 15 pounds, and then just get back to California and try to keep it organic, raw if possible — sushi, salads. I'm an old meat eater, but every time I feel myself get my system clogged up, I go vegetarian. I'm considering opening up an organic restaurant myself.
Article continues below advertisement
Sprague: I pretty much go with the same food groups that my mom fed me when I was little girl. If you just stay away from junk, and stick with what your mom taught you, you're eating pretty healthy.
Any dieting downfalls?
Esai: I binge on the set. Craft services is the one thing I have to master — just walk away! Look for the fruit and vegetables! But it's such a delicious guilty pleasure to eat a candy bar, a donut.
Sprague: I'm not a big fan of food with absolutely no nutritional value because I work out and need to eat healthy to sustain that. My indulgences are chocolate and Pinkberry.
What is your fitness routine?
Esai: I discovered tennis. I can literally play for three or four hours. It's such an amazing workout where you use your entire body. Other than that, swimming is incredible; I've got a pool. And hiking in Runyon Canyon is a surefire way to get the blood pumping.
Article continues below advertisement
Sprague: I work out six days a week. I do pilates, Bikram yoga and spinning. Every once in awhile, I'll throw weights in. I like to get some kind of cardio in every day, even if it's just hiking.
What's a healthy breakfast, lunch and dinner for you?
Esai: Today for breakfast I had a glass of orange, carrot and celery juice and then some oatmeal with goji berries and bananas. Other times, I'll have cereal, Product 19, with a lot of vitamins in it when I'm on the go and need some energy. Lunch might be kale salads or raw fruit pies. The crust is made out of dates and walnuts and shredded coconut and then layers of thinly sliced mango, bananas and pineapples, or apples and strawberries and kiwis. For dinner, I will eat tons of quinoa or spelt, spinach or whole wheat pasta.
Sprague: I usually eat six times a day, small meals. For breakfast, an egg and a corn tortilla, salsa and cilantro, and some ham. For snacks, I'll have an apple, some string cheese, a yogurt. For lunch I'll have salad with protein in it and for dinner usually steamed vegetables and chicken or fish.
How hard is it to go organic?
Esai: Here in California, it's easier. It's a lifestyle. You can go to the farmers' markets; every day there's one somewhere. If you want to live longer — and, more importantly, better, with a higher quality of life — then it takes a little effort.
Article continues below advertisement
Sprague: When I can afford it, I'm very into organic food and I love going to restaurants that use organic produce and such. I think that it's a shame for everyone that, unfortunately, organic can be pretty expensive, so you just do what you can.
Do you cook?
Esai: I am the laziest person. I actually have people stay in my home if they can cook! You do the cooking; I'll do the eating.
Sprague: I just started cooking; I'm slowly learning. For my best friend the other night, I made chicken with balsamic garlic reduction sauce and brown rice and steamed vegetables. It was good!
For more on Esai and Sprague, check out their gallery and pick up the latest issue of OK!, on newsstands now!