PHOTOS
OK! Interview: Yunjin Kim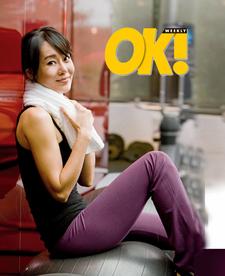 It could be difficult to be motivated to work out if your filming location is the beautiful, relaxing beaches of Hawaii, but not for Yunjin Kim! Between shooting with exotic polars and the Others, the Lost star squeezes in some necessary workout time. The 34-year-old actress tells OK! about her various exercise routines and why she would never take up surfing.
What do you do to stay fit?
I get on the treadmill maybe three times a week or so, but mostly I've just been swimming ever since I got to Hawaii and the luxury of being able to swim all year long outside. I hit the treadmill or the gym if it's not nice out. If it's nice out, I swim pretty much every day for about half an hour. I have a great pool, it's very private and not too many people use it. So unless I'm working… If I'm at work all day then of course I can't do it, but when I have my days off, I'm usually downstairs in my building swimming. It's very convenient and it's usually empty so you can get a pretty good workout.
Article continues below advertisement
Do you do laps or tread water?
I do laps. I do pretty much everything. I switch around to get different parts of my body working. I didn't really swim all that much, especially when I was working out in Korea. But ever since I got to Hawaii, I sort of got sick and tired of going to the gym and doing the same old routine every day. I just picked it up and I really love swimming.
Do you swim in the ocean?
I do, but one bad thing about me is that I wear contact lenses so when it gets in your eye you're in pain! So I prefer the pool where I can wear goggles. Wearing goggles in the ocean isn't a good look.
Do you do any weight training?
I'm not really into weight training. I like to do pilates. I have a couple of tapes at home. I pop them in once in a while to do some stretching. But I never really got into weight training.
Article continues below advertisement
Are you into yoga?
More pilates then yoga. I've done some yoga. I've never taken classes. I'm going to start taking yoga classes starting next year. It's on my list of New Year's resolutions. I actually have one yoga video. It's just nice and relaxing, it's great to do right before you go to bed. I used to dance when I was in high school and all throughout my college and I sort of stopped and did a lot more of the action training. I made a lot of action films back in Korea so I would have to get trained for the type of role that I was playing. So it consisted more of the combat type of thing. So I've noticed that I've been losing some of my flexibility so that's why I want to start taking yoga classes seriously and get back my flexibility.
When you use a treadmill, do you run or walk?
I run and walk. I usually start off walking to warm up my body and then I run for 10 minutes and I slow down and then I go back into running again. But I used to run every single day when I was doing those action films just to keep myself in shape. Especially on screen, when you're running, if you don't run every day, you don't look as tough or real. Running in a very graceful yet very powerful way, you have to run every day unless you lose it. My trainer said I have to run every single day so I guess there was no easy way out of running.
Article continues below advertisement
Do you work out with a trainer?
Not here in Hawaii, I used to back in Korea, but not anymore. Of course working with a trainer they push you a little further then you would push yourself so it's always great to have someone to support you and say, "One more! You can do it!"
Do you push yourself with swimming? Or is it more recreational?
It's just mostly, I like the feeling of it. I did something good for my body. But I try to keep swimming. There is a huge clock, it's called Aloha Tower. It's the main attraction when you are coming to visit Hawaii. And I can see the time from the clock because I live right across the street from the tower. So I'll look at the time and say, "Okay, I've only been swimming for about 25 minutes, I'm going to push myself for five more minutes." So that's how I keep up. Its great. I've got the clock right there so I can keep up with the time.
Are you on any diets?
No, no. I used to when I first started out working like 10 years ago to lose my baby fat, but not anymore. I eat what I want, but I try not to eat anything after 7 p.m. That's the only diet thing I do. I just can't sleep with a full stomach. I'm very good about eating breakfast, lunch and dinner. I try to do it at the same time — if I'm not working getting up at 8 a.m. — I'll eat around 9 a.m. for breakfast and then I'll have lunch around 1 p.m. I like to keep the routine, especially about my eating habits, as far as the timing.
Article continues below advertisement
Do you snack at all?
Yeah, I have some weaknesses, with chocolate. I love chocolate. I love eating chocolate. I love ice cream, French fries, especially when I'm about to get my period! I get cravings. But not really. If I see potato chips, I'll grab a piece of fruit instead and eat it. I'm going to have an apple instead of potato chips… There are days when I have to have French fries. So I'll order a sandwich in a restaurant just so that I can have the fries on the side. They are really bad for you, but they're so good!
What does a day in your diet look like?
I usually start out my day with a bowl of cereal or oatmeal or if I feel like doing a little more I'll make myself an omelet. Usually for lunch I'll have a sandwich or something simple. With dinner, I usually go out and have Korean food or I'll cook some Korean food at home with a bowl of rice and simple dishes on the side. Korean food is really good for you. It smells awful, but kimchi is supposed to be really good for you. It's the radish, sometimes it's made of different things, sometimes lettuce. It's like one main Korean dish that you'll always see at a Korean table. Whenever you go to a Korean restaurant, you'll always see the side dish of kimchi. It's supposed to be really good for cancer. It takes away toxins in your body. It's literally fermented vegetables spiced with spicy Korean red paste and red peppers. That's one of the main dishes that you'll eat with a bowl of rice.
Article continues below advertisement
Brown or white?
I try to mix brown rice and white rice together. It's a Korean way of cooking rice. It really depends on what I feel like. Most of the time I'll have white rice at home. I got a new rice cooker which is amazing. You can put red beans or black beans in your rice so it's not a plain bowl of brown rice or white rice. You could put a lot more in it.
Do you eat a lot of Korean food in Hawaii?
Yes I do. There are some amazing Korean restaurants in Hawaii. But I usually cook at home. It's pretty simple to cook Korean food. You marinate the meat, so if you know how to do one kind of meat, it's pretty easy to switch things out. And there are a lot of little side dishes and there are a lot of vegetables in the sides. Korean food has a lot of vegetables. Sometimes you can have chicken as the main dish but there are all these side dishes that you eat with your rice to balance the meal. I wish I worked at a Korean restaurant to explain this to you in a more detailed way! When I cook, I think in Korean so it's hard to transfer those thoughts into English!
Article continues below advertisement
Do you eat healthy on set?
We have really great catering people on set so they don't just give you a tuna sandwich. They always give you a side of… If you ask for avocados or grilled red peppers on the side. Whatever you ask for you can get. So we really… usually we'll have choices of beef, chicken or fish all in one day. It's really good food.
More temptation?
I don't eat red meat so it's usually chicken or fish for me. There are always tons of great salads. We usually have like five different types of salad.. Caesar salad, tofu salad or mixed greens, so you get a lot of variety. It never gets old eating on set I have to say! Whenever my friends come to visit me on set, they always go for seconds! They are always eating more than they usually eat because the food is really good.
Does that happen to you?
On set I don't like to indulge myself that much. Because I don't really want to act. When I'm full I get really lethargic. I feel like I want to take a nap. We only get a half hour for lunch and then have to go back into the makeup trailer to get touched up, which only takes literally two seconds, but still, especially when I have to work on an emotional scene, I can't act with a full stomach. If I'm standing around not doing much, I'll have a complete meal on set. I think everyone eats healthy on set. Especially actors, we're very self conscious about our body weight. So we try to stay healthy. Our bodies are our instruments. Most actors eat healthy.
Article continues below advertisement
Do you focus more when you're shooting or are you pretty consistent about your diet and workout?
I stay pretty consistent throughout the year. For me, after I turned 30 it's been easier to keep my body weight consistent. I know it's the other way around for most women. But for me, I don't know, maybe because of my routine of eating at similar times every day. Maybe I've trained my body and my metabolism to work better since I'm on a type of routine. I don't know what it is, but it's been easier. I haven't been worried about my weight for a while now.
What do you do to relieve stress?
Swimming! I don't drink, I'm sort of allergic to alcohol. I nurse a bottle of beer throughout three hours of partying. I can't drink! Yea, if I drink it's bad. I'll get really drunk. Not only do I turn red, but I need to sit down, I can't stand up, I'm a mess when I drink. So I never really drink. So my one way of releasing my stress is not going out and partying and getting myself drunk. That's not one of my things. When I'm really stressed out, I usually take a nap. I sleep it off. I think that's the best way to release my stress. Or just go for a swim and forget about it. I've learned to walk away instead of dwelling on it all day long.
Article continues below advertisement
Did you ever pick up surfing?
No! There are so many injuries with surfing. Especially with me wearing my contacts. I didn't think that was going to be a good idea. Two years ago I was going to get laser surgery, but I'm such a chicken when it comes to that. I was telling my cast members, "I'm going to get Lasek surgery and learn how to surf and surf with you guys." And that was two years ago. I don't know why I'm such a chicken. I know all of my friends have done it. They love it. Maybe that should be my New Year's resolution — go get my eyes done!
For more on Yunjin, check out her gallery and pick up the newest issue of OK!, on newsstands now!