NEWS
OK!'s NYC Fashion Week Blog: Charlotte Ronson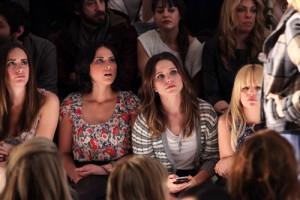 Can't make it to NYC for Mercedes-Benz Fashion Week? Don't worry, OK!'s got you covered! We checked out Charlotte Ronson's runway show for a sneak peek at the designer's Fall 2011 collection and adored her edgy, 90's inspired looks!
SHOW: Charlotte Ronson
WHEN: February 12
OK!'S FASHION WEEK BLOG: VIVIENNE TAM!
WHO: Olivia Munn, Sophia Bush, Mena Suvari, Kim Kardashian, Louise Roe, Russell Simmons, Angela Simmons, LaLa Vasquez
Article continues below advertisement
FASHION: Keeping true to herself and her fans like Mena Suvari, the show began with isle print chunky knits in army green, navy and yellow to keep anyone warm and cozy on those chilly winter evenings. The 90's still stayed strong in her Fall '11 collection with dresses and rompers styled over ripped tights and pants. With an added touch of leather here and there, this collection will give any girl a bit of edge!
BEAUTY: Hair was down and slicked on one side, with loose braids scattered throughout. Some models sported punky pink sprayed hair. Nude lips were paired with rose colored eyes. A edgier look was cohesive throughout. Some models wore knit hats and others John Lennon-esque round sunglasses.
COLOR/OVERHEAD: It's always a family affair at Charlotte's shows. Her sister and deejay Samantha Ronson mixed the music for the show — keeping the vibe upbeat and fitting for a Saturday night — while half-sister Annabelle Dexter-Jones modeled! The crowd went wild when Annabelle hit the runway, causing the model to blush and shake her head as she strutted the catwalk in a suede trim riding jacket paired with a silk print romper, ripped leggings and lace-up wedge booties. And Annabelle is not stranger to the acting world! According to her bio, she has modeled in some big time campaigns — like Louis Vuitton and Hogan — besides being the face of Charlotte's celebrity-revered clothing line!
Article continues below advertisement
Olivia Munn was a fashion week virgin and Charlotte marked her second show ever — making her first stop at Jill Stuart. She was amazed by all the commotion and taking it all in.
"It's not really my world, I love it and respect it so much, but it's very new for me," Olivia told OK! on the runway.
Her favorite part of the new collection — mixed prints!
Olivia has been busy shooting her new film opposite fashionista Sarah Jessica Parker, I Don't Know How She Does It.
Sophia Bush described Charlotte as a "great blend of New York and L.A. cool," which she appreciated growing up on both cities.
"We all come to fashion week and we love seeing all the couture, but you also want to come and see clothes that you can wear every day and spend your life in in a a sort of practical manner, and I love that Charlotte does that and keeps it looking fabulous."
As far as the music for the show, Sophia was hoping for some Lady Gaga.
" 'Born This Way' came out yesterday, so we are all hoping for some Gaga."