PHOTOS
See How The Stars Are Responding To The Oscar Nominations & Snubs On Twitter!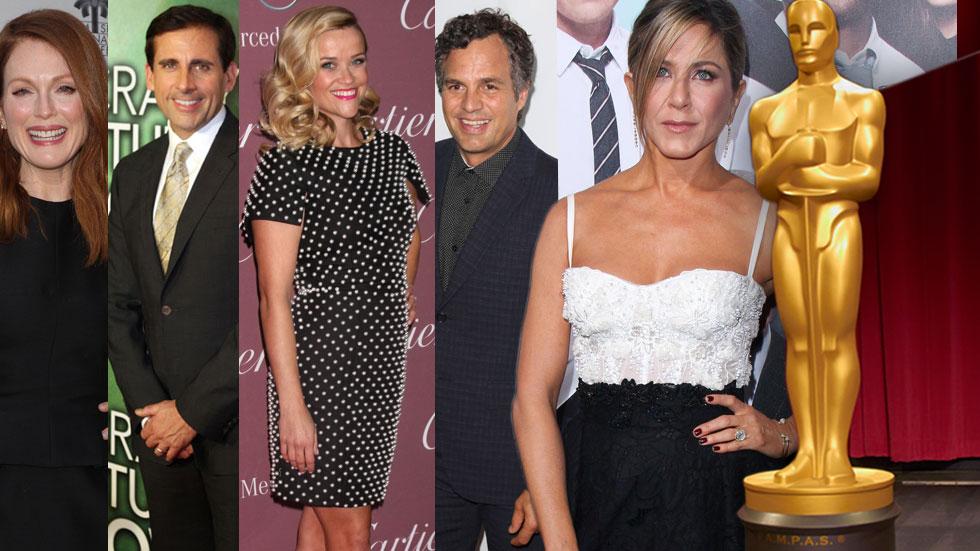 oscars
While stars like Reese Witherspoon and Steve Carell turned to Twitter to express their excitement over their Oscar nominations, others expressed their shock over the Oscar's top snubs (we're looking at you, Jennifer Aniston!).
Find out how your favorite Hollywood stars are reacting to the 2015 Academy Award nominations!
Article continues below advertisement

Everyone thought Jennifer Aniston's make-under transformation in the buzzed-about flick Cake would win her a well-deserved nomination – especially Kristin Chenoweth!

Jessica Chastain looked on the bright side when addressing her snub for A Most Violent Year by reminding fans that she made four films that she's proud of!
Article continues below advertisement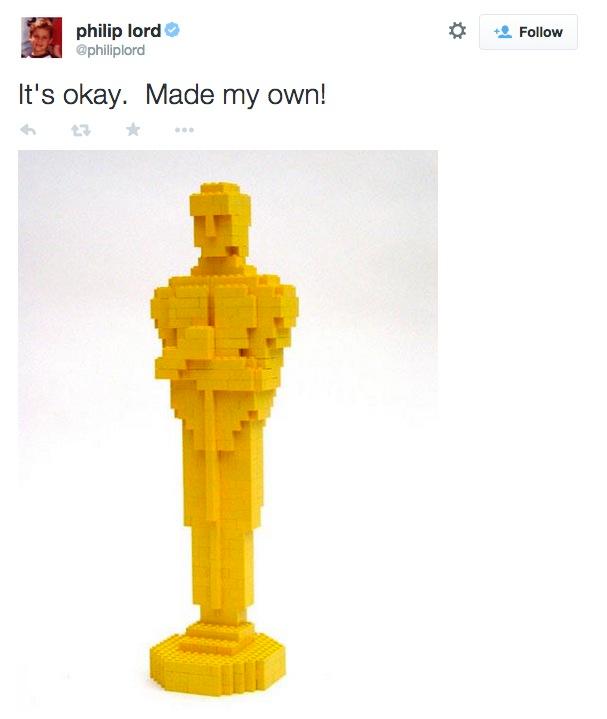 Philip Lord won't receive an Oscar for The Lego Movie, so he built his own with Legos, of course!

Sarah Michelle Gellar also expressed her disappointment that The Lego Movie was left out. We protest too, Sarah!
Article continues below advertisement

Reese Witherspoon is definitely going Wild over her Best Actress nom! Do you think she'll win the gold for the second time?

Julianne Moore may have been nominated for an Oscar four times, but it never gets old! The actress shared her enjoyment over her nom for Still Alice.
Article continues below advertisement

John Legend sung his heart out for the biopic Selma – and it paid off! The actor couldn't contain his excitement when "Glory" was nominated for Best Original Song.
Mark Ruffalo's portrayal of David Schultz in the chilling drama Foxcatcher snagged him a second Oscar nomination!
Article continues below advertisement

Steve Carell showed a side of himself viewers have never seen before, and it earned him an Oscar nod! The actor thanked everyone involved in the film with this grateful Twitter post.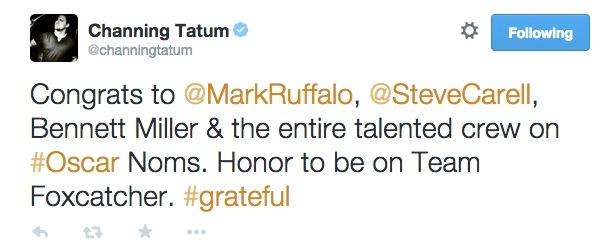 Channing Tatum may have been snubbed, but that didn't stop him from congratulating his co-stars!

From having her car towed to being late for work, it looks like Patricia Arquette wasn't having the best morning. Luckily her Best Actress nomination for Boyhood made it better!
What do you think of the nominees? Tell us in the comments below or tweet @OKMagazine!