PHOTOS
Pete Wentz: Breaking the Law!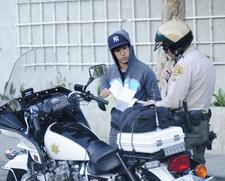 In Los Angeles yesterday, Fall Out Boy bassist Pete Wentz found himself in trouble with the law!
Driving a black Range Rover, which may actually belong to girlfriend Ashlee Simpson, he was pulled over for a traffic violation. An eyewitness tells OK!, "He didn't seem real animated one way or the other. He didn't seem overly upset. When it was over he just walked back to his car and drove off."
The source added, "I'm not really sure why he had to get out of the car though."
Article continues below advertisement
Although Ashlee wasn't there, Pete was with a guy friend. Maybe he can go and write a song about it!
By Jocelyn Vena