NEWS
PHOTOS: Jennifer Love Hewitt Must Really Love Pink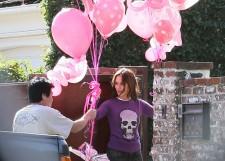 Is that huge bunch of pink balloons for Jennifer Love Hewitt or a certain bedazzled part of her anatomy? Jennifer accepted the delivery at her home in Toluca Lake, Calif. on Wednesday, the day after admitting on Lopez Tonight that her um, "precious lady" parts were currently decked out in pink Swarovsky crystals. Seems she's got a favorite color!
EXCLUSIVELY IN THE PAGES OF OK! — ALL THE DETAILS ON HOW NEW MOMS KENDRA AND KOURTNEY ARE DEALING WITH MOTHERHOOD
Article continues below advertisement
Also in this issue:
• Everything you need to know about Carrie Underwood's wedding!
• The feud between Jennifer Aniston and Angelina Jolie is just getting worse.
• Tag along with Jersey Shore's Ronnie and Sammi on their romantic night out in NYC!
...and all the latest news, gossip and photos!