NEWS
VIDEO: Jennifer Love Hewitt Discusses Her Sparkling Crotch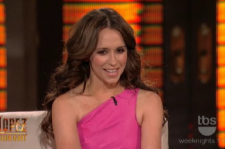 On last night's Lopez Tonight, Jennifer Love Hewitt talked about how she once, following a particularly nasty breakup from a boyfriend, was convinced to try cheering herself up by doing some body art — in her most precious of areas.
"A friend of mine Swarovski-crystaled my 'precious lady,'" she confessed to host George Lopez. "It shined like a disco ball!"
She liked it so much that she continues to decorate down there. "It's hot pink for you today," she confessed to George, who then ordered his crew to never discard the chair Jen was sitting on.
MORE ON:
Jennifer Love Hewitt
Article continues below advertisement
In fact, her "Vagazzling" efforts worked so well that Jennifer has written a whole chapter about it in her upcoming book, The Day I Shot Cupid.
As for how guys have reacted to her Vagazzled bits, she replied, "I've had no complaints."