PHOTOS
PHOTOS: Lindsay & Sam's Night Out in London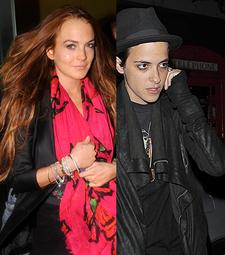 In the seemingly neverending saga that is the relationship between Lindsay Lohan and Samantha Ronson, the latest news finds the on-off-on-off-on couple apparently back in "on" mode, after spending the night together at a London nightclub on Wednedsday.
Both LiLo and Sam, along with Ronson's brother, record producer and musician Mark Ronson, were at the exclusive Bungalow 8 nightclub on Wednesday evening. And while Linds didn't leave the club with her semi-former flame and her bro, she did follow them out the door only minutes later.
Article continues below advertisement
"Lindsay was in good spirits," one witness outside the club tells OK!. "She was smiling and blowing kisses to the paparazzi."
It was an entirely differently Lindsay who showed up at Samantha's hotel room around 2:30 a.m. last night. Gone were the blown smooches, replaced by scowls and a stiff-armed bodyguard.
See for yourself in this gallery: