PHOTOS
Real Drama with the Real Housewives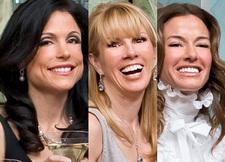 On Friday, the catty women from all three of Bravo's Real Housewives show descended on the Fred Segal Fun store in Santa Monica. But this was no peace conference.
The ten well-heeled gals, representing NYC, Atlanta and Orange County, were on-hand to film a segment for the Bravo A-List Awards. Former boy-bander Lance Bass played master of ceremonies, announcing to the women that they were each being given $4,000 to shop for the perfect outfit for event, which is taped tomorrow night, April 5, and airs on April 15.
Article continues below advertisement
Even though three of the NYC Housewives — Jill Zarin, LuAnn de Lesseps, and Alex McCord — were AWOL from the shopping spree, that didn't stop the remaining Big Apple babes from bringing their drama to the West Coast.
Archenemies Bethenny Frankel and Kelly Killoren Bensimon made no attempt to play nice. In fact, one witness tells OK! they "acted as if the other didn't even exist. They didn't look at each other — or even acknowledge each other — even once." However, notes the source, Bethenney appeared to be more bothered about the situation than Kelly.
It was left to the only remaining NYC castmate, Ramona Singer, to bridge the gap between the two. "Bethenny and Kelly don't really like each other; just like how I don't like Simon," Ramona explains to OK! "Not everyone is going to like each other. We are not always going to get along."
As for MIA Housewife LuAnn, who is going through a divorce with her husband, Ramona is typically candid.
"LuAnn is laying low right now," she explains to OK!. "We are in the public eye, but there are some things we want to keep personal. This was not something that she wanted out in the press. She's got children, but LuAnn's husband obviously had a bone to pick with her."
OK!'s EXCLUSIVE PICS OF THE NYC HOUSEWIVES:
Adding a bit of class to the affair was a surprise appearance by romance novel hunk (and butter substitute spokesman) Fabio, who popped in to share his unique points of view with the Housewives. Gretchen Rossi from the O.C. did little to hide that she was smitten with the walking slab of beefcake. "Do you think Orange County girls are trashy?" she aked Fabio as she tried on different dresses.
Speaking of Gretchen, she talked to OK! to catch us up on her life since the unfortunate passing of her fiancé Jeff Beitzel from Leukemia. "It has been quite a year," she admits. And though she's currently dating Slade Smiley (who was once engaged to another OC Housewife, Jo De La Rosa), Gretchen continues to wear the engagement ring that Jeff gave her. "I'm not going to take it off. This is a memory of him that I will have for myself."
As far as her relationship with Slade, Gretchen coyly tells OK!, "we'll see where that goes."
By Patricia Ramos