PHOTOS
'Real Housewives Of Orange County' Star Heather Dubrow Shares Her New Year's Resolutions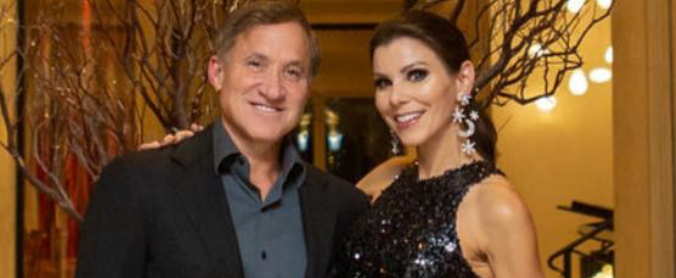 Heather Dubrow is ready to conquer 2020! The Real Housewives of Orange County alum recently shared her New Year's resolutions and detailed how she plans on sticking to them!
Article continues below advertisement
On December 28, 2018, Heather, 50, and her husband Dr. Terry Dubrow were asked by Page Six what they wanted to focus on in 2019. Heather and the Botched star, 61, wanted to spend more time with their four kids and to live a less stressful life. One of Terry's resolutions was to be a better husband.
Fast forward one year later. The outlet caught up with the reality TV couple again and they divulged whether or not they stuck to their resolutions. "I definitely kept my resolutions!" Heather said. "2019 was a year filled with change for me and I'm ending the year happier and lighter than I've been in years." The Stark Raving Mad actress added, "Terry was a great husband! Keep up the good work, honey!"
Article continues below advertisement
The plastic surgeon chimed in, "Although I worked like a dog, I did find more time with the kids and if I do say so, I was a pretty great husband!" Terry added that he hopes to keep the same resolutions for 2020, "This year I look forward to losing the weight I plan on gaining this month with our new diet book, The Dubrow Keto Fusion Diet, due out in March," the E! star said.
Heather revealed she's happy with her life now and said she wants to "continue on the same path of growth and happiness." Terry and Heather married in 1999 and they share daughters Max, 16, Katarina, 13, and Coco, 9, and son Nicky, 16.
Article continues below advertisement
Heather joined The Real Housewives of Orange County in 2012 and left the series in 2016. Rumors swirled in June 2019 that she was returning to the show. She chatted with Entertainment Tonight alongside her former RHOC costar Tamra Judge at the time and spoke about her possible return.
"Well, I always say 'never say never,' because, you know, if in two years I was back on the show I don't want to be like, 'Well, they're going in a different direction and I really like the way it's going,'" Heather said. "You never know what life is gonna bring you, but I feel like I'm in a good spot (off the show)," she continued.
What are your thoughts on Heather and Teddy's resolutions? Sound off in the comments below!