PHOTOS
Lisa Rinna Reveals The Reason Why Her Husband Harry Hamlin's Film Career Tanked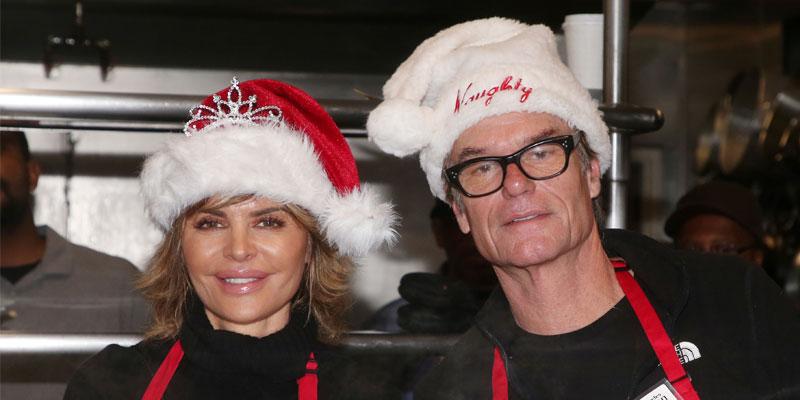 Lisa Rinna has a feeling as to why her husband Harry Hamlin's film career declined. The Real Housewives of Beverly Hills star joked that it was because of Harry's 1982 film, Making Love, that his career went down the tube.
Article continues below advertisement
In an interview with Toofab, Lisa, 56, revealed that her 20-plus year marriage to the actor, 68, has been a "lucky" one. However, one thing that hasn't been so lucky is the amount of Harry's acting roles after the romantic drama premiered. In Making Love, Harry portrayed a gay man involved in a love triangle with him, his wife and another man. The drama was the first mainstream Hollywood film to address the themes of homosexuality.
The reality star told the publication that she agreed with the Mad Men star's feelings that the flick "ruined his film career, but not his TV career" due to the fact that having an openly gay main character on the big screen was "way before its time."
Article continues below advertisement
Lisa added that she believes that audiences in the 1980s weren't as accepting as they are today. When asked if she would ever consider playing a gay character, she quipped, "Yeah, I would. ... No one's ever asked me!"
The Melrose Place star also dished to the outlet the one bad habit Harry has that drives her nuts! "He chews this blue gum. I mean, I love everything about him, but if there's one thing — and he knows it, I've told everybody — he chews this blue gum. And, you know. it's everywhere," Lisa said.
Article continues below advertisement
"I've had it on my pants, in the laundry," she continued. "I did an Instagram Story video of it one day, and I followed the gum, and it turns up more places than you'd imagine! But if that's the only thing I don't like about Harry Hamlin, I think we're good. We're doing pretty well."
Earlier this month, Harry revealed why he would never work with acclaimed director Steven Spielberg. The Clash of the Titans actor shared with Page Six that his audition for Steven's 1981 film, Indiana Jones and the Raiders of the Lost Ark, went horribly wrong. Harry was a top contender for the role of Indiana Jones that would ultimately go to Harrison Ford. Harry auditioned for the beloved action film in 1978.
Article continues below advertisement
What are your thoughts on what Lisa had to say? Sound off in the comments below!