PHOTOS
'Real Housewives Of Beverly Hills' Newcomer Sutton Stracke Dishes Her Thoughts On Her Costars!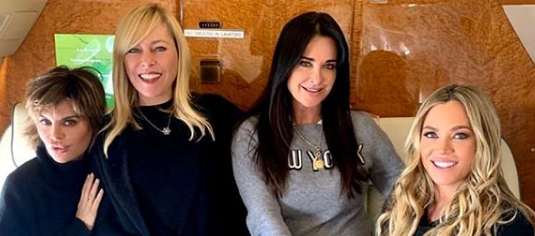 Real Housewives of Beverly Hills newbie Sutton Stracke has a lot to say about her castmates. The mother of three spilled the tea on some of her costars and revealed what she really thinks about them!
Article continues below advertisement
The Sutton Concept owner joined the cast for season 10 and revealed to Us Weekly that she's BFFs with Lisa Rinna. However, the actress was not the one to ask the socialite to join the Bravo series.
"I had been asked many times before, or at least like, 'Let's have a conversation about this, Sutton, we would love for you to come on board.' And even when I was in Orange County that started," Sutton told the outlet. "But that was like really early in the process and I was never interested. And so finally it was a couple of years ago, they called me and said, 'We really want you to do the show.' And I was having lunch with Lisa ironically about the same time. And she just said, 'If you do it, just be really prepared.' And I had just gone through a divorce and I was like, 'I don't think I'm prepared.' So about a year later I thought, 'Oh, I think I'm ready for this. Let's do it.'"
Article continues below advertisement
She continued, "I did think that I would get to know Lisa in a different way and we went over a hump and that did happen, so that's cool," she told Us. "And there were some girls in the beginning that I thought, I'm never going to get to know them, and I ended like, 'Wow. I really like them and got close.' So it's been cool."
As for other newcomer Garcelle Beauvais, here's what Sutton had to say. "It was hard for me to get to know Garcelle at first. One time she said, 'I don't know if I like you and I don't think you know if you like me.' And I said, 'Well I like you,'" she said.
MORE ON:
Garcelle Beauvais
Article continues below advertisement
"I thought Dorit Kemsley was a bit more hard to get to know and I thought that that was going to be an easier relationship," Sutton dished on the mother of two.
Sutton added that she thought "it would be really hard to get to know" costar Erika Jayne.
Article continues below advertisement
"I really like her. She's a really dear person and she has a very calm energy. I think we're all, we all like her," Sutton said of star Denise Richards.
What are your thoughts on what Sutton had to say? Sound off in the comments below!