PHOTOS
Braunwyn Windham-Burke Dishes Her Family's Holiday Traditions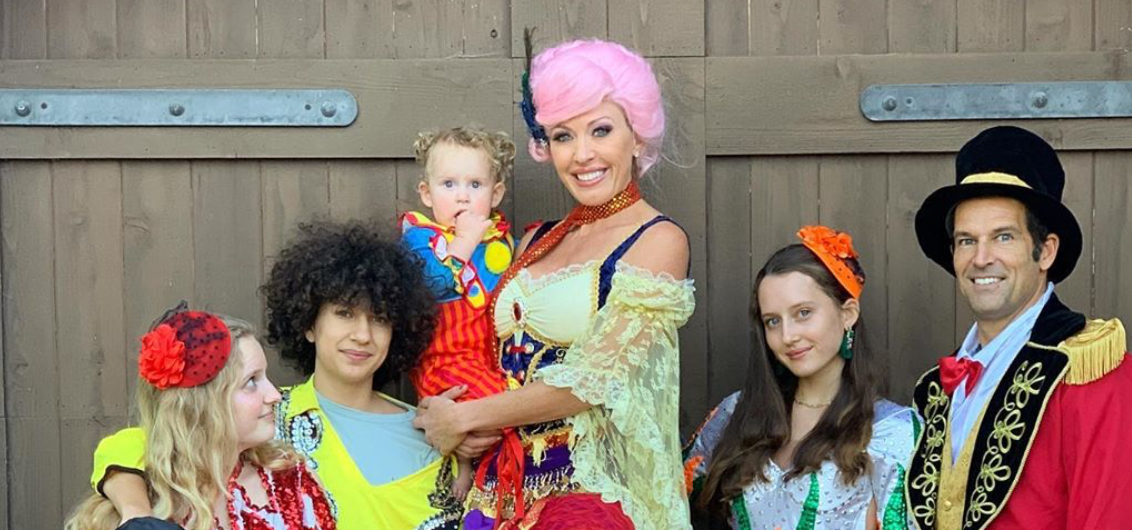 Braunwyn Windham-Burke is a big fan of the holidays! The Real Housewives of Orange County star recently shared her favorite Christmas and Hanukkah traditions that she and her family of nine love to do during the winter season.
Article continues below advertisement
The 42-year-old revealed to Page Six  how she and her husband Sean keep the holidays organized. Braunwyn admitted she has a system for giving gifts so Christmas morning runs smoothly.
The Bravo star is a full time mom to daughters Bella, 19, Rowan, 17, Koa, 4, and Hazel, 1, and sons Jacob, 14, and six-year-old twins Caden and Curran. "One of my favorite things is all my kids have a different color wrapping paper, so on Christmas morning, it's very easy to keep it coordinated," she told the outlet.
Article continues below advertisement
"Bella is blue. Rowan is red. Jacob is green. Caden is gold. Curren is silver. Koa is purple and Hazel is pink. And it keeps it very organized," the blogger continued. Braunwyn also confessed that her family is moving to their new home in 2020 and they're having a small intimate holiday party this year. "We are moving and we're moving January 4th into a new house," she added.
"It's exciting but it's also the worst time to move, I feel like. So this year I'm trying to keep it very small. Normally our Christmases are over the top and huge. I love magic, so I love Santa and I love everything that goes along with it," Braunwyn continued. On December 22, the socialite shared a snap on Instagram of her and her family crowded around a menorah. "Happy Hanukkah, from our family to yours! I love taking these moments to remember what's important ❤️ #largefamilylife #makingmemories#happyhanukkah #family," she captioned the pic.
Article continues below advertisement
On December 25, Braunwyn happily showed off her present from Sean. The businessman gifted his wife a Pedego bike! She showed off her gift on social media and write, "Merry Christmas!! My favorite filming this season was when @kellyddodd and I took her @Pedego bike around our neighborhood, I don't think I've laughed so hard ever, so when I reached out to them to surprise Sean this morning I was so excited when they said they had a bike that work for all 4 kids, I was ecstatic !!! Thanks you for making Christmas morning magical for @seanwindhamburke this year! You guys are the best!!!! #pedego#superdad #christmassurprise#beachliving #havekidswillride.'
Just a day before Christmas, Braunwyn posted an inspirational message to her followers in light of the joyous holiday season. Alongside a snap of herself smiling and tasing her arms to the sky, she scribed, "Just Breathe. I've been doing this holiday mom thing for 20 years, in the beginning I would drive myself crazy looking for gifts I couldn't afford and weren't really needed, as my kids grew up I started to realize something, they didn't remember what gifts they got (or didn't get,) they remembered the time and the traditions. I want you all to take a minute for yourself today (even if it's just hiding in your room for a bit,) and remind yourself what really matters....friends, family, and time together."