PHOTOS
Are Teresa Giudice's Daughter Gia & Dolores Catania's Son Frankie Dating?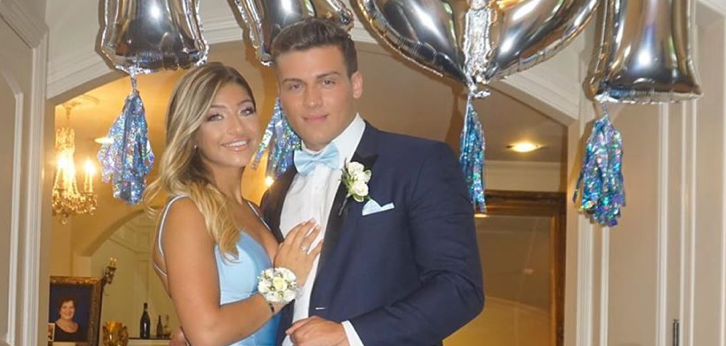 Teresa Giudice and Dolores Catania set the record straight on the topic of their kids Gia Giudice and Frankie Catania's relationship once and for all. The Real Housewives of New Jersey stars revealed if Gia, 19 and Frankie, 21, are dating.
Article continues below advertisement
Teresa, 47, and Dolores, 49, dished to People about Gia and Frankie's current love lives. The kids sparked dating rumors back in May 2019 when they they attended Gia's prom together. The dance will be featured in an upcoming episode of the Bravo series.
"They were together on Saturday, she went to his school," Dolores told the publication. Gia is a freshman at Rutgers University in New Jersey and Frankie is a junior at Sacred Heart University in Connecticut. The philanthropist continued, "I got a text from Teresa, 'Is Frankie at school?' I then go on friend finder, I see where he is, because I check where he is all of the time."
Article continues below advertisement
Teresa interjected, "Because Gia was going there. I'm like 'Are you seeing Frankie?'" The two moms confirmed that the kids saw each other at the school. And while they would both be ecstatic if their kids had a relationship, they aren't too keen on them dating while they are young. Dolores explained that she wants Gia and Frankie to date eventually. "Yes, later. After they gave it all out of their systems. Timing is everything," she said.
"They have to finish school," the Skinny Italian author added of Frankie and Gia's future. Dolores also told the outlet that she and her costar "don't push it" and "mind their business." However, Dolores has "hopes behind the scenes." Teresa chimed in, "We would love for it to happen." Dolores is also a mom to daughter Gabriella, 24, with her ex-husband Frank Catania. Teresa shares daughters Gabriella, 15, Milania, 14, and Audriana, 11 with estranged husband Joe Giudice.
Article continues below advertisement
Back in May 2019, the Celebrity Apprentice alum hosted a wild pre-prom party at her home and shared a variety of snaps on her social media. Teresa took many photos of Gia and Frankie's big night. Gia sported a gorgeous satin ice blue gown while her escort matched in a navy tuxedo and blue bowtie. The two hugged as they posed for pics before the prom.
At the time of the prom, fans commented how much they loved Gia and Frankie as a couple. One user wrote in the comments section of one of Teresa's party posts, "The relationship we all never knew we needed ?." Another follower said, "You guys are gorgeous!!! Please be dating!!!"
Article continues below advertisement
What are your thoughts on Gia and Frankie possibly dating in the future? Sound off in the comments below!