PHOTOS
Rihanna, Carrie Underwood, Fergie Among OK! Favorites Rocking Grammy Nods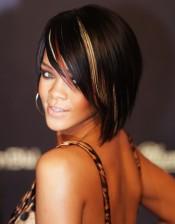 Congratulations to , whose song Umbrella scored nods for Record Of The Year, Song Of The Year and Best Rap/Sung Collaboration during the 50th Annual Grammy Awards nominations announced today.
OK! has been on Rihanna's team ever since we did a fashion shoot during her Pon De Replay days in September 2005, and we catch up all the time.
"My umbrella is my best friend Melissa," she tells me. "And I'm her umbrella too. She keeps me really grounded, and she always has my back no matter what. Likewise for me."
Article continues below advertisement
Her tune Don't Stop The Music is also up for Best Dance Recording.
What will she wear to the ceremony? Perhaps she'll take on the color of her favorite crayons. "Maybe blue," she tells me. "Actually I'm lying. Green. I just love green. Green's one of my favorite colors."
Rihanna's not the only celeb who makes my list of favorites.
's Before He Cheats is up for Song Of The Year, Best Country Female Vocal Performance and Best Country Song.
OK! featured photos from Carrie's very first video shoot for Jesus Take The Wheel in November 2005, and I see her out and about occasionally. What does she do for good luck? "I don't really do much for luck," she tells me. "I just try not to think about it and get ready so I'm not too nervous. If I think about it, then I'll get nervous."
Carrie and Brad Paisley share the glory for Oh Love, which is up for Best Country Collaboration.
Article continues below advertisement
OK! once featured Brad in our Last But Not Least section. It's sweet that he is also up for Best Country Instrumental Performance for Throttleneck and Best Country Album for 5th Gear. He has certainly stayed humble. "I'm surprised pretty much every time a show sells out," Brad tells me. "I'm thinking 'why would that many people wanna go see it?' I think we do a good job, but at the same time, I've done so many shows over the years where there wasn't anybody there. It's like I'm conditioned that no one's coming."
Also part of the winners' circle is and Kelly Clarkson's Because Of You, which scores in the Best Country Collaboration with Vocals category. Reba did a Quick Chat with OK! "I love her to pieces," Reba tells me. One day they picked up Sonic drive-thru – fun times! Hopefully Kelly will be ready to claim her prize unlike what happened at the MTV Video Music Awards. "I was sitting with my girlfriend Ashley, I brought her as my date, and we were just sitting there talking and then all of a sudden they said my name!" she tells me. "I wasn't even listening to the announcer. I was not thinking I'd be number one, so it's cool."
Article continues below advertisement
High five for Evanescence, who are up for Best Hard Rock performance for Sweet Sacrifice from their album The Open Door. Luckily, frontwoman Amy Lee doesn't have to worry about a second career right now. "Are we going to fail, and do I have to go back to college?" she pondered to me about this album.
How exciting for Ne-Yo, who is up for Best Contemporary R&B Album for Because Of You. I was on hand when he did a food shoot with OK! "I'm a very simple guy," he tells me of his tour rider. "Something to drink and towels, that's all I really need."
Props to 50 Cent for getting a nod for Best Rap Solo performance for I Get Money. He was hilarious on the red carpet during Fashion Rocks. "What kind of man doesn't know what a bustier is?" he cracked to the Tyra Banks crew stationed beside me.
Wow also goes out to , whose Kiss, Kiss is going head-to-head against Rihanna in the Best Rap/Sung Collaboration category. "I've been working since I was ten years old trying to make it in the industry," he tells me. "What kept me going is wanting to do it, just having that dream of becoming something."
Article continues below advertisement
I once had a wacky run-in with Fergie, who is up for Best Pop Female Vocal Performance for Big Girls Don't Cry. (She accidentally bumped a certain part of the anatomy during a Super Bowl party. Waah. We laughed it off.) Hopefully the night will be more exciting for her than sitting through fashion shows. "Kind of boring," she tells me.
Ferg faces off against Nelly Furtado's Say It Right. Nelly is also up for Best Pop Collaboration With Vocals for Give It To Me. Nevis' mom is proud of learning to dance in high heels. "I think it's marvelous how Beyonce would dance onstage in high heels, and now I'm a pro at it," Nel tells me. "I got used to it."
Super-sweet Miranda Lambert is up for Best Female Country Vocal Performance for Famous In A Small Town. "It's cool because at the awards shows you get to see artists that you've kind of become friends with, and it's cool because you get to see artists you become friends with that you haven't seen in awhile," she tells me.
Miranda competes with LeAnn Rimes' Nothin' Better To Do. (LeAnn is somebody who could be your best friend, she's so open and friendly.) "Sometimes if you're nominated, it's a little nerve-wracking because you're ready for that award to be over with so you know if you won or if you didn't," LeAnn tells me. What will she wear? "I worked really hard for these legs, so I really want to show them off," she tells me.
Article continues below advertisement
Awards don't mean much to Mary J. Blige, who is up for Best Female R&B Vocal Performance for Just Fine, Best R&B Performance By A Duo Or Group With Vocals for Disrespectful and Best Gospel Performance for Never Gonna Break My Faith. She tells me her prized possession is her life. "Without my life, I would have nothing, so it's gotta be my life."
Talk about skills! John Mayer's Belief is up for Best Male Pop Vocal, but he didn't learn guitar in school. "When you get to fifth grade, you get the band instruments," he tells me. "Some of the kids who stay in strings turn out a little weird. Then, I picked up the guitar. Unfortunately public schools don't really appreciate the guitar. I wish that wasn't the case. My experience was that I had to go home and do that."
Luckily, didn't go home empty-handed. She's up for Best New Artist. If she's as excited as she was at the CMT Awards, fans will get to see the prize in person.
"If I win, I will scream a lot and call everybody I know," she tells me. "I would take the award on tour with me and bring it to all my meet-and-greet lines."
Catch all the action during the 50th Annual Grammy Awards, which will air February 10 on CBS.