NEWS
Rihanna Debuts Her Tattoo Touch-up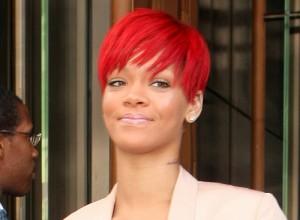 Rihanna seems to be loving her favorite new accessory: tattoos! Fans went wild in NYC on Wednesday to catch a glimpse of Rihanna's newest body art, after she was spotted leaving Eastside Ink on Tuesday night with a bandage covering her neck. But Rihanna had everyone fooled! She was simply getting a touch up on her neck tattoo which says "rebelle fleur."
MORE ON:
OK Galleries & Photos
Article continues below advertisement
Rihanna is usually a fan of black and leather clothes, but her look on Wednesday was super sweet. She wore a baby pink boyfriend blazer paired with short jean shorts and heels. She's definitely one celebrity that knows how to change up her look.
OK! GALLERY: MATT KEMP GOES WITH RIHANNA TO GET INKED IN NYC
Rihanna doesn't make it easy to keep up with her tattoos. She's always debuting new ones to go along with her fierce look. A rebel indeed!