PHOTOS
Rihanna, More Get Tongues Wagging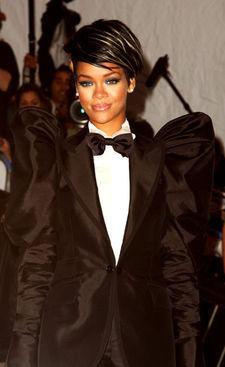 Rihanna puts on a show of strength Monday, arriving last for the annual Metropolitan Museum of Art Costume Institute Benefit dubbed "The Model as Muse: Embodying Fashion."
"Dolce and Gabbana," the Barbados-born singer says, uttering her first words to the media since her Grammy-day beating by then-boyfriend Chris Brown.
She's not the only one putting the past behind her. Earlier in the evening, Katie Lee Joel and hubby Billy Joel bide their time in the center aisle looking lovey-dovey for the press. She faced rumors of an affair with designer Yigal Azrouel last month.
Article continues below advertisement
And glasses-wearing Justin Timberlake makes a mad dash for the entrance while Jessica Biel waves glamorously looking radiant in red Versace, putting the brakes on breakup buzz.
Shocking! Eva Mendes gives Amber Valletta a lingering kiss on the lips, and then cops a feel of the model's backside. Hm, could they be making a statement without saying a word?
Madonna, Mary-Kate and Ashley Olsen, Kirsten Dunst, Victoria Beckham, Elizabeth Hurley, Helena Christensen, Kate Beckinsale, Rachel Weisz, Cindy Crawford, Kanye West, Kate Bosworth, Jessica Alba and Bono glide through.
SEE PHOTOS FROM THE 2009 MET GALA:
Gisele lingers outside the venue wearing a sparkly Versace dress and Fin earrings. And the ring is from where? "From my husband," she shouts, as Tom Brady heads inside. What does she love about her dress? "I like blue!"
Gossip Girl stars Blake Lively and Penn Badgely gamely interview together, but Jessica Szohr laps up the spotlight sans Ed Westwick.
"I got ready in the bathroom at the Four Seasons Hotel, but I wasn't staying there," Jessica says. "I had a meeting there before, and my publicist is helping me pull it together. I'm like 'suck it in!'"
Article continues below advertisement
The Trumps are all in a row. How did the family of three get ready? "We just got up and got dressed, and we got here," Donald says.
Melania tells me, "He loves the dress. He likes what I'm wearing. It's that simple."
How did Ivanka choose her Brian Reyes frock? "It felt very feminine and very young," she says. "It was a nice compliment."
Friendly Katy Perry can't hide her excitement. "I feel like Cleopatra, and also I got my hair cut like Anna Wintour, so she'll like me," she says. (Anna's here with daughter Bee.) "No, I got it cut in December. It's a joke."
Andre Leon Talley calls out Michelle Obama as his muse. "She's appropriately dressed, and also she's modern and she takes risks," he tells me.
Meanwhile, Michelle O's go-to designer Jason Wu admires Jessica Alba for fitting into a sample size less than a year after the birth of daughter Honor. "She's multitasking, and she's a great one at that," he says.
Elizabeth Banks says "I love how girly and fun it is!" of her Alberta Ferretti number.
Article continues below advertisement
Andy Roddick's wife Brooklyn ?Decker is loving the newlywed life. "It's wonderful and great," she tells me, adding that Andy didn't pick out her Derek Lam pantsuit because he's training. "He said not to wear pants. He said 'it's the Met, you can't wear pants!' But I was like 'this is cool and a little unusual for the Met,' so I'm very excited to wear it."
?
Kiefer Sutherland steps out for a smoke break. When told he looks dapper by the E! reporter, he modestly says, "No, I don't. Liar! Bless your heart."
For more coverage of the Costume Gala, pick up the OK! on newsstands later this week.