PHOTOS
Work Work Work! Rihanna's Most Revealing Instagram Pics Ever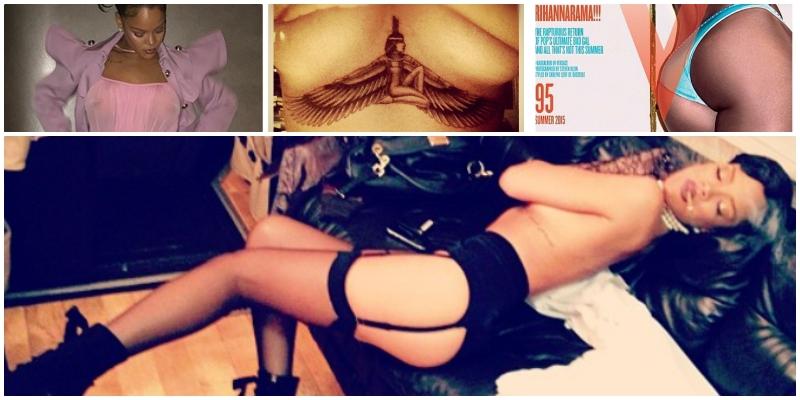 Rihanna is one of the most popular artists of our time, but her singing talent isn't the only thing that made her famous on Instagram. The thing is… Rihanna loves to get naked… a lot… maybe a bit too much.
Photos: Nearly Nude! Rihanna's Most Scandalous Cleavage-Baring Moments
If the handle "badgalriri" doesn't ring a bell, it may be because you're missing out on Rihanna's nude pics, which the "Work" singer regularly posts on her Instagram account. In fact, the Barbadian bombshell has nearly been suspended from Instagram—on multiple occasions—because of her passion for exposing a bit too much skin, including putting her bare nipples on display.
Article continues below advertisement
Photos: No Clothes Necessary! Rihanna's 10 Most Naked Moments!
Instagram may hate Rihanna for challenging its no-nudity rule, but her more than 60 million followers definitely love her… for all the right reasons. Bad Gal Riri is living up to her Instagram name. And even though many of Rihanna's most naked photos have been taken down, Ok! has still managed to put together the hottest snaps of the "Sex With Me" singer still available on Instagram.
Let the #FreeTheNipple campaign run wild!
Article continues below advertisement
Hot damn it! If you've never seen Rihanna naked, you just won the lottery. This is the closest to naked Rihanna has ever been on Instagram. You are one lucky fella or gal to see RiRi's nipples barely even covered by that pink sheer dress.
Baywatch Bae! Rihanna shows off her sensational figure in a bikini while hugging a tiny monkey. Does it get any hotter/more adorable than this? Doubt it!
Article continues below advertisement
Sizzling hot! Rihanna oiled up to soak up the Barbados sun, and our temperatures went up too! You can be certain that RiRi turned heads for all the right reasons on the beach that day.
Nothin' to see here…except a rare glimpse of Rihanna's underboob. Such a casual yet super sexy way to connect with your Instagram followers.
Article continues below advertisement
Totally slayed it! Rihanna gave us goosebumps and put her toned butt on display on the cover of V Magazine. Move over, Kim Kardashian, the queen of Instagram booty! You may have just been dethroned by Rihanna with this steamy photo.
Holy coquette! Braless Rihanna sipping Coke from a straw while barely even covering her exposed boobs equals one sexy snap! RiRi may have just won the Internet (again).
Article continues below advertisement
Boobalicious! Who else could get away with posting a closeup shot of her boobs? Exactly no one! This suggestive snap is not about those chains on Rihanna's neck nor is it about that tiny birthmark between the singer's assets.
OMG! Yet another closeup photo of Rihanna's breasts—we will never get tired of those! RiRi is no dummy, she knows that her boobs look incredibly good. That's why she posts those hot cleavage snaps every once in a while. Not that her Insta followers are complaining!
Article continues below advertisement
Hot AF! Boobs are not the only body part that Rihanna proudly shows off on her Instagram account. RiRi let her followers' fantasies go wild with this sexy photo wearing nothing but stockings and high heel boots.
Rihanna didn't come empty-handed for this one. The "Work" singer decided to really go all-in and leave just a little bit to the imagination.
Article continues below advertisement
Let's be voyeurs by taking a sneak peek at this behind-the-scenes pic of Rihanna posing on a couch in nothing but yellow panties and covering her bare breasts with a white towel. Work it, RiRi!
Have you been missing Rihanna in a bikini? Here ya go! We can't get enough of that sensual stare that RiRi gives the camera as she puts her flat stomach and that iconic tattoo on display. Wait a second…what is she doing with her left hand over there? Oh, never mind…
Article continues below advertisement
Please, RiRi, have mercy! No shirt? No problem! Or at least that's what Rihanna thought when she ditched her bra and went nude for this black-and-white photoshoot.
Did we already mention that Rihanna's booty is winning the Internet? Here's one more proof that RiRi can give the Kardashians a run for their money.
Article continues below advertisement
Ab-solutely fABulous! Rihanna dazzled in that bedazzled bra and thong shorts, putting her toned tummy on display. Bonus points for a double dose of thigh action and those sexy fishnets. RiRi knows exactly what she's doin'!
B*tch better have my money! Or, at least, some sunblock. Why not use sunscreen to write out the number "23" on your stomach, wear purple-mirrored shades and put a dark lipstick on? Damn, what a gorgeous, bikini-clad rebel!
Article continues below advertisement
Did you really think Rihanna was done with her jaw-dropping bikini photos? Well, think again! You better get a good look at RiRi's bikini bod before it's too late…
Oh wait… Here's more for you! This time, it's double sexy, as Rihanna brought her hot girlfriend to pose in matching bikinis. And we can't keep our eyes off their fit bods!
Article continues below advertisement
Whoa! Although you can barely see a glimpse of Rihanna's chest area, the combination of RiRi lying in bed, her plumped up lips, and those high heels make this snap super hot. What a seductress!
Unapologetic! Rihanna looked so rebellious in this one that you can only imagine what she was thinking when posing for this selfie. Was it, "Suck my cockiness, lick my persuasion" (from "Cockiness")? Yeah, probably that. Definitely.
Article continues below advertisement
Yet another bikini photo from Rihanna! Cuz, you know, "Just live your life / Ain't got no time for no haters" (from "Live Your Life"). Couldn't agree more!
Ménage à trois anyone? Mistress Rihanna looked smoking hot in that black leather mini-dress, with stockings, black leather gloves, and a cigar in her hand. The only thing missing was a whip. Just sayin'. "You know I got the sauce, you know I'm saucy," the badass line from "Sex With Me" is a perfect fit to caption this Instagram snap.
Article continues below advertisement
Lost in paradise! Told ya, Rihanna is all about handing out that bikini-clad eye candy. Like the rest of her gazillion followers addicted to that sweetness, you are probably hooked by now. Here's your fix in the form of Rihanna wearing pink lace bikini and showing off her brunette mullet hairstyle. Gorgeous!
Holy…! RiRi gave us a fantastic of view of her perfectly-toned back in this black-and-white Instagram photo. Dayuum! Rihanna has never been shy about exposing lots of skin and her bare buttocks.