PHOTOS
Rihanna, Ne-Yo Do UNICEF Snowflake Lighting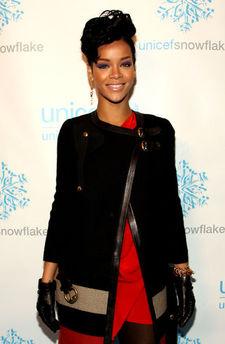 Rihanna shivers her way through UNICEF's Snowflake Lighting held at NYC's Grand Army Plaza.
Moments after the HIV-positive muppet Kami does interviews – with actual human being sitting on the floor beneath her doing the talking (weird!) – the Umbrella singer, 20, struts through at 5:55pm.
What does she wish for this holiday season?
"I just want to have fun," the Gucci-clad girlfriend of Chris Brown says. "This is my first time I may spend it -- maybe, I'm not sure yet – in America. shivers This weather tonight is not helping me say yes."
Article continues below advertisement
She dived "head-first" into helping with the charity when she found out proceeds would benefit kids all over the world.
Here comes Ne-Yo, who tells me he's reaching out to Jennifer Hudson after her family tragedy.
"I sent countless e-mails, I've tried to call a few times – of course, I'm not expecting her to answer the phone, going through what she's going through," the singer/songwriter, 26, tells me. "But I've sent her countless e-mails letting her know that my prayers are with her and her family, and just hold your head up. God has a plan for everything."
MORE ON:
Red Carpet Confidential
While Ne-Yo can have almost everything these days, two things he can't get these days are time with his young son -- or a dog.
"I'll definitely send a gift to him, but legally I'm not even allowed to be over there," he tells me of life with his son. "It's a long story. Maybe later on I'll put out a press release, but as of right now, I'm not allowed to see him."
And, about that dog?
"I want one, but I'm never in one place long enough to have one. And I don't want a little dog that you can carry around with you. That's not for me. I want a Rottweiler. I want a dog you can ride like a horse. But you can't take a Rottweiler on the plane with you. It would be bad."
Ne-Yo reaches behind my ear and electric-shocks me on the way out. Now there's a trick to remember.