PHOTOS
Ruben Studdard Settles Into Super Stepdad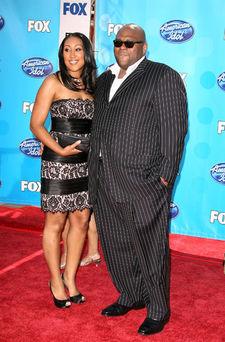 Ruben Studdard can thank American Idol for making him a household name.
The season two winner shot to fame in 2003 with Clay Aiken as runner-up, and tonight's champ will follow in his footsteps as well as those of Kelly Clarkson, Fantasia Barrino, Carrie Underwood, Taylor Hicks, Jordin Sparks and David Cook.
Much has changed since Ruben, 30, took home the title. The Velvet Teddy Bear married wife Surata last June, and has a new album called Love Is in stores now. How has married life changed him?
Article continues below advertisement
"It has settled me down a whole lot for the better, actually," he tells me. "I take a lot of time to think about what I do right now, and what I say – especially because I have a stepdaughter, I have to be very conscious about the type of things I'm involved in because I always want to have a positive influence on her life. I'm really blessed because God gave me this opportunity to be with a woman that really cares about me for who I am and not what I have. I'm happy right now."
Ruben adds, "She completes me, and she does not take any crap from Ruben Studdard, and I like that."
While he and Surata are "taking our time" starting a family of their own, he is already a stepdad to her daughter.
"I never thought this would be my most favorite thing to do with my stepdaughter, but I love doing homework with her," he says. "That is my thing. I was a music education major at college, and so I love teaching young people. I do that all the time. It's such a special thing that we have. I get a chance to work with her when she gets out of school, and I love it. I love her."
Article continues below advertisement
Favorite subject?
"Mathematics," he grins. "I was always good at math and science, and hopefully she will be, too, with my tutoring."
Does Ruben ever feel as if American Idol has held him back?
"In no way have they held me back," he says. "They've done nothing but propelled me to do the things that I always wanted to do in my life, which is singing for millions of people every year, and I get a chance to do that."
VIEW OK!'S EXCLUSIVE VIDEO OF THE AMERICAN IDOL EXPERIENCE AT DISNEY'S HOLLYWOOD STUDIOS:
SEE MORE PHOTOS IN THE VALERIE GALLERY: