PHOTOS
Sarah Chalke Is No Maneater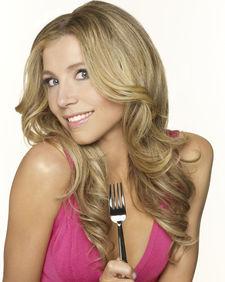 Although Sarah Chalke plays a conniving character in Lifetime's four-part miniseries Maneater, the actress, 32, has settled down with her lawyer fiancé Jamie Afifi in real life.
"We are both planning a wedding," Sarah tells me. "That's the similarity. But I met my fiancé through friends on a ski trip and she stalked hers after reading he was rich in the paper and planned the wedding before actually having met him."
Article continues below advertisement
Ooh, how was wedding dress shopping?
"I've been once, and I fell in love with the dress. I haven't ordered it yet, but I think it's the one that I'll get. It's totally the opposite of what I thought I would want. I thought I would probably want something a little more simple, but then when you try on those fabulous, big dresses, I fell in love with one."
This summer, they plan to visit their native Canada.
"There's so much hiking and biking and kayaking you can do up in Whistler," she says.
Regardless of whether they're enjoying an exotic adventure or lazy Sunday at home, they are happiest being together.
"We're opposite in a lot of ways," Sarah admits. "That makes a good balance, and we just have so much fun together. We met so many years ago, and we still have a great time together. And I feel like he's just so there for me. It's fun to know that no matter what happens, you always have somebody who's got your back."
Pick up the OK! on newsstands now to find out how Sarah Chalke chills out. "Brunette Bombshell: Ashley Tisdale" is the cover line. And, tune into Lifestime's four-part miniseries Maneater beginning Saturday.