PHOTOS
Sarah Jessica, Matthew Enjoy Date Night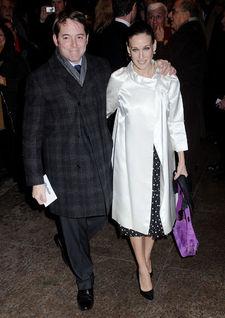 Sarah Jessica Parker and Matthew Broderick put the rumors to rest during the opening night of The American Plan held Thursday at NYC's Samuel J. Friedman Theatre.
The talented twosome fight back against whispers of marital strife by putting on a happy face, smiling for the cameras and lovingly holding hands.
What's the best part of being married?
"Uh, being married," Sarah Jessica says before telling Matthew "hang on to me" as they make their way through the crowd. "OK," he replies.
Article continues below advertisement
Here comes fur-clad Joan Rivers, who gleefully hugs a male pal when she arrives. She's a total delight, and looks amazing. How does the comedienne stay motivated to work out?
"I can't afford new clothes this year," she tells me in her signature rasp. "You gain weight and you're screwed. How much can you let out?"
What's her favorite celebrity wedding dress of all time?
"Melissa's," she yuks. "It was Vera Wang. Amazing. We want to sell it on eBay. The dress worked, but the marriage didn't."
The Celebrity Apprentice star confesses she never turns into that other reality show, American Idol, but always watches Law and Order.
"I Tivo and I live for Law and Order," she says. "You know why? It always comes out good in the end. I don't need trouble. I have trouble in life."
Meanwhile, ultra glam Patricia Clarkson is a huge fan of the reality juggernaut that launched the careers of Kelly Clarkson, Carrie Underwood, Clay AikenDavid Archuleta, David Cook, Clay AikenDavid Archuleta, Kellie Pickler and Chris Daughtry.
"I love American Idol!" she exclaims.
What does she think of the newest judge Kara DioGuardi?
"I think she's great. I do! Honestly."
She can't wait to see her Pieces of April costar Katie Holmes return to Broadway in the stage version of Finding Neverland. "Of course I'll be there," she tells me.
The American Plan is on Broadway now.